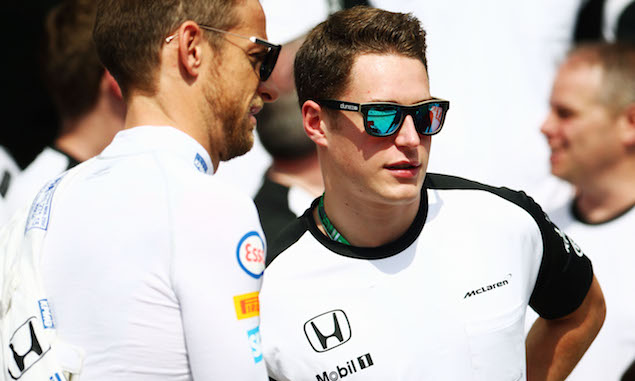 Roberto Merhi finds it frustrating to see talented drivers such as Stoffel Vandoorne unable to get an F1 race seat due to a lack of funds.
With Manor rebuilding after exiting administration, Merhi was drafted in to race at the start of 2015 and went on to retain his seat for the majority of the season. However, having admitted he has little backing to offer, the Spaniard sees little chance of racing in F1 next year. While somewhat frustrated by his own situation, Merhi told F1i the likes of Vandoorne - who stormed to the GP2 title but will only be reserve driver at McLaren next year - deserve to be promoted to race seats.
"Even this year I didn't have any money," Merhi said. "It's hard but when you see drivers like Vandoorne who at the moment don't have a Formula One seat, it's quite frustrating. Not only for me, so many good drivers our there are really talented, they have the level of some F1 drivers or even better but they don't get the chance to drive in a grand prix.
"I think I was really lucky this year to be driving for them without a budget. To be honest I am proud and want to thank them for the opportunity they gave me to be an F1 driver. At the end of the day it's really hard to come here without a budget."
And Merhi believes he proved himself worthy of an F1 seat due to his level of improvement over the year compared to team-mate Will Stevens, though he was disappointed with the way his season ended after problems with the handling of his Manor in Abu Dhabi.
"To be honest the first races I was struggling, we also had some weight differences and some things. Will was quicker at the beginning, he also had more experience than me in a Formula One car.
"But then from Monaco onwards I think I was at a better level, I was always ahead of him in the races even with the top speed delta that we had. In Monza was the only track I couldn't do anything to beat him, but in all the others from Monaco to Sochi I always beat him in the race and always had a much better pace in the race.
"That was really good. If you take out the first two races with both of us - Shanghai and Bahrain - and then Barcelona and Abu Dhabi were really, really bad, but the rest of the races were really good I think. All the time up to Sochi I was improving step-by-step and it was good but Abu Dhabi to be honest was horrible."
Mercedes: Ferrari not involved in data theft
Romain Grosjean exclusive: From Lotus to Haas
Use the red tabs on either side of the screen to scroll through more Formula One news and features
Click here for a gallery of the McLaren MP4-X
Keep up to date with all the F1 news via Facebook and Twitter