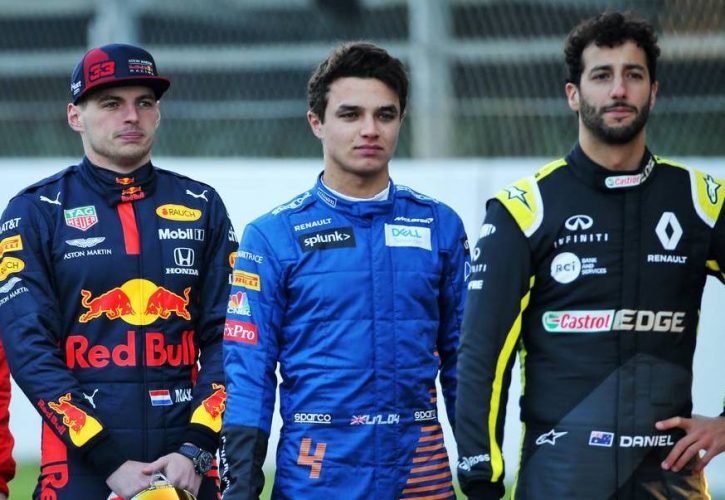 McLaren's Lando Norris says he'll be relying on Max Verstappen for insight into how to deal with his future teammate Daniel Ricciardo.
Norris and Ricciardo will be racing together at McLaren next season and the combo is expected to pick up where Norris and Ferrari-bound Carlos Sainz will have left off at the end of the year in terms of light-hearted humour and banter.
But the duo is also perceived as an interesting pairing that could prove fiercely competitive on the track.
"It's hard to know what to expect until you are really there," Norris said during an Instagram live with Sky Sports.
"Before 2018, no one really had the same perspective of Carlos until last year. He really shone a lot more and his personality came out a lot more.
"I want to say that was a bit down to me and how open I was as a teammate but there was never these memes about Carlos in 2018 or before that. In 2019 and 2020 everything exploded a lot more.
"So, from the outside you never really know what to expect, or know much about a driver until you work with them. That was the same for me with Carlos.
"It's the same with Daniel. Obviously, I know Daniel a little bit more than I did Carlos going into the season.
"But there's still a lot of things I don't know with how he works and how sneaky he is with things - more behind the scenes kind of stuff. I will find out next year."
Just before his graduation to a race seat at McLaren for 2019, Norris received some good pointers from Verstappen on Sainz along whom the Dutchman raced at Toro Rosso in 2015.
And Verstappen - Norris' Esports partner in crime - will once again be the young Briton's go-to source of information on his future Australian teammate.
"Max gives me a lot of good tips, he knew a lot about Carlos," said Norris. "He knows a lot about Daniel. That's part of it, you've got to get to know your teammates.
"As much as you want to get along, and sometimes they don't, you want to know what their weaknesses are and their strengths are and so on. If anyone can tell me them then that's a benefit.
"You want to have fun in F1 and that's what I want to do, but at the same time you need to work well with your teammate and as a team, but your biggest competitor is also your teammate.
"It's going to be tough and there's going to be a lot of things I need to learn from Daniel, but whoever has tips on what makes Daniel angry, I'm sure Max will be the guy to ask."
Gallery: The beautiful wives and girlfriends of F1 drivers
Keep up to date with all the F1 news via Facebook and Twitter