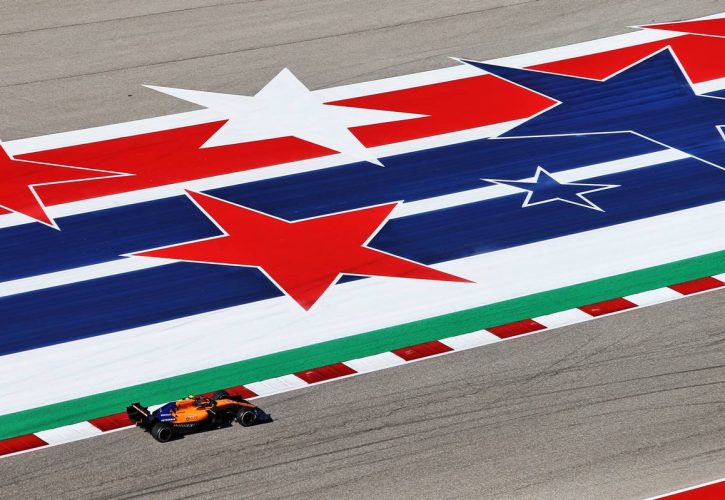 Circuit of the Americas boss Bobby Epstein still doesn't have "a perfectly clear picture" on the chances of keeping the US Grand Prix on F1's 2020 calendar.
Formula 1 has confirmed an initial schedule of eight European races, starting next week in Austria. But adding to its list is a moving target determined by how the COVID-19 pandemic will evolve in the countries hoping to host a round of the F1 world championship later this year.
It is therefore unclear at this stage whether this year's calendar will include the US Grand Prix in Austin, originally scheduled for October 25, especially as coronavirus cases are currently soaring in the state of Texas.
"We actually don't have a perfectly clear picture right now," Epstein told Autoweek.
"I think that what they learned in Europe was that they could kind of wait until the last possible minute to make a decision, and we're not at the last possible minute yet for deciding about what it's going to be here.
"We don't have a firm 'it's going to be with fans,' 'it's going to be without,' or whether it even makes sense to come over to the U.S. But right now, we're planning on (F1) coming."
While COTA still has time on its hands before deciding the race's fate, setting a firm deadline will depend on the State's policy regarding spectator attendance
"It depends upon the number of fans," said COTA's boss. "That's really the case because you could open up two weeks before for 10-20,000 people, and that's no problem at all.
"We do 30 concerts a year that have 10-13,000 people attending. For a 20,000-person event, no problem, short notice.
"What we don't want to do is gear up 100 days out—where we are now—for a lot of fans, build a lot of temporary structures for hospitality.
"There's a lot of trackside hospitality that's built, to stages and everything else, and not only to find out that there's another wave that comes along and you have to cancel it once you're heavy investment into it.
"But a couple of weeks before you could certainly do something with 15,000 fans."
Regardless of the venue's future attendance requirements, Epstein has already dismissed setting up COTA's typical three-day racing and concert festival. But fans will still get their money's worth of entertainment insists Epstein, and at a lower price.
"In terms of getting the venue ready for fans, we're fortunate to have a permanent venue," added the US GP promoter.
"We can open the gates with sort of short notice, but as part of what we typically do for Formula 1, which it's really a three-day festival and all of the things that come along with it with the Grand Prix, it's just a massive event beyond just racing.
"The music and entertainment and food villages, there's so much more that we can't put that part of the experience together at this point, we passed that date.
"When the race comes here and it's determined whether or not we can have fans, that will clearly be a race-focused event rather than what's become really a three-day festival and celebration.
"I'd expect we can still have it. I think the offerings to the fans in terms of their three days of entertainment will be lower.
"I think the price of the ticket will reflect that, and so it may still draw a good crowd even on short notice."
Gallery: The beautiful wives and girlfriends of F1 drivers
Keep up to date with all the F1 news via Facebook and Twitter