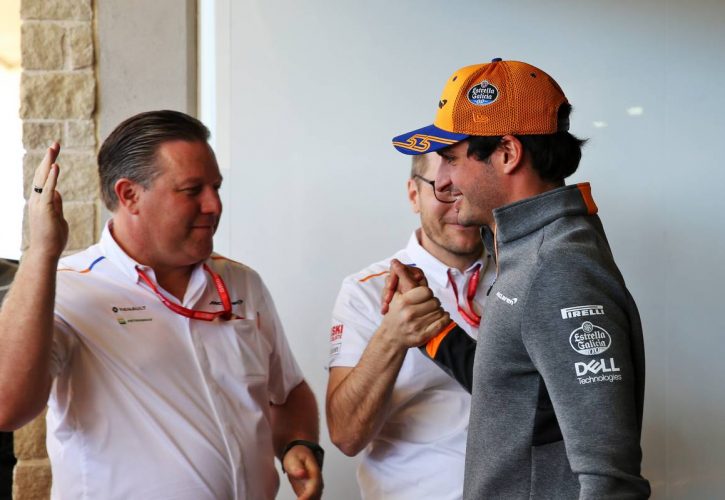 McLaren boss Zak Brown says Carlos Sainz will not be kept out of the team's information loop this season because of his move to Ferrari at the end of the year.
McLaren has found itself in the unusual situation where one of its drivers has already committed to another team for 2021 before the first race of 2020 has taken place.
Sainz will move from Woking to Maranello at the end of the current season, the Spaniard replacing Ferrari's outgoing Sebastian Vettel.
But Brown insists McLaren's working relationship with Sainz won't be significantly impacted by the latter's transfer to the Scuderia, as both parties ambition to do well together this year and because next year's regulation freeze reduces the need for McLaren to shield its departing driver from confidential information linked to next year's design.
"We're racing together in '20, we want to have a lot of success together in '20," Brown told Sky Sports F1.
"He's a professional and we're professionals. I think if you start holding back information, then you're not going to have a successful 2020 together, so I think we've got to focus on 2020, maximising it, and I think holding back is not productive.
"Our '21 car is going to look like '20. Maybe if '21 had been a brand new car, you then find yourself in an uncomfortable situation of sharing information on next year's car.
"But next year's car is effectively going to be this year's car. So I'm not concerned about the integrity of Carlos. We'll be an open book."
Sainz's harmonious and friendly relationship with side-kick Lando Norris has helped foster a positive atmosphere at McLaren, and Brown sees no reason for that to change in the future.
"We've got a lot of harmony in our garage, and I think Carlos and Lando are very competitive with each other, but have a lot of respect for each other," said the American.
"I'm quite proud of how we've handled it. I think we've become a team that drivers like to drive for. I like to think we've created a garage environment where drivers like to come and drive for McLaren."
Gallery: The beautiful wives and girlfriends of F1 drivers
Keep up to date with all the F1 news via Facebook and Twitter