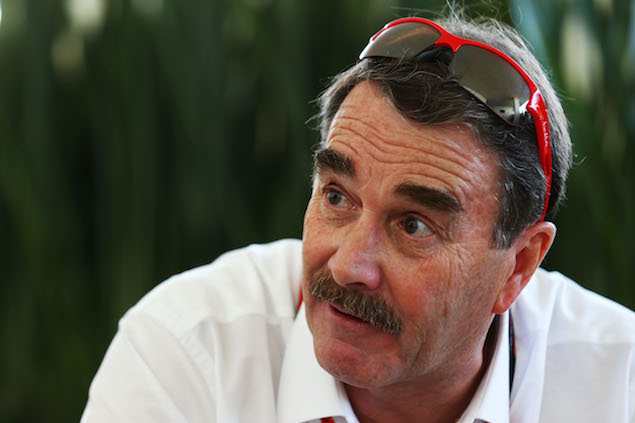 1992 world champion Nigel Mansell wants Formula One to work to expand the grid to 26 cars to give young drivers opportunities in the sport.
The addition of Haas will result in a grid of 22 cars in 2016, the same number as at the start of 2014 before the demise of Caterham. In the summer the FIA opened up a tender for another potential new team to join in the future, but felt there were no suitable candidates which came forward.
With the cost of competing in F1 having been a major talking point for a number of years, young drivers are also finding it harder to break in to the sport with the likes of GP2 champion Stoffel Vandoorne and DTM title-winner Pascal Wehrlein unable to secure race seats.
Asked by F1i during an exclusive interview what he would like to see change in F1, Mansell replied: "I want to answer that question as a sporting fan.
"So as a sporting fan I want to see a full grid of cars. I want to see 26 cars on the grid to give up-and-coming drivers who are doing GP2 an opportunity to learn their trade at the back of the grid, show how good they could potentially be and be picked up by midfield Formula One teams or then those at the front. There's always going to be a difference who's going to run at the front.
"I think a more level playing field is needed so that it shouldn't be so hard to compete if you have the actual sponsorship to do the job. As demonstrated with Red Bull and obviously Honda and McLaren this year, there's obviously something that needs to be tweaked with the rules in some way for them to be able to catch up with Mercedes.
"Ferrari have done an outstanding job this last year, I think absolutely magnificent. To get rid of some of the people they have and then turn the team around and be competing and win races this year I think is very commendable. But we need more cars on the grid as a fan. We need more teams - obviously they bring more cars - and we just need to have a stability in regulations where it gives the lower teams more time to catch up but also keeps the cost down. These changes with the engines for instance now, especially with the turbo cars from what I've heard it has gone absolutely crazy."
Playing the joker: Sebastian Vettel
Technical feature: All of the 2015 F1 steering wheels