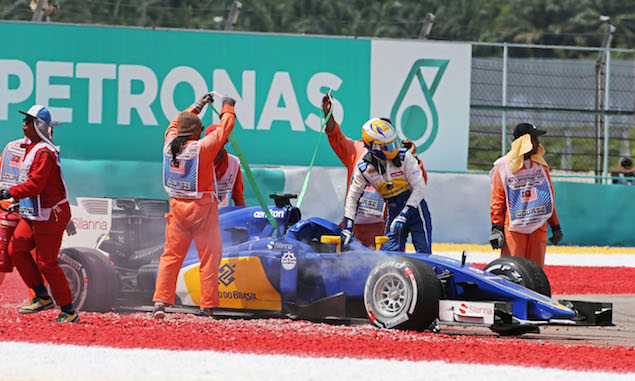 Marcus Ericsson believes he put himself under too much pressure at the start of 2015 with Sauber which led to a poor first half of the season.
Having moved to Sauber from Caterham, Ericsson was paired with rookie Felipe Nasr but was unable to match his team-mate's results early on when the car was competitive. Nasr scored 16 points in the opening six races compared to just five points for Ericsson, and the Swede feels he was looking across the garage too often at the start of the year.
"It's a lot about the mental approach and how you are mentally and I think in the beginning of the year I was putting myself under a bit too much pressure," Ericsson told F1i. "I was trying too hard and I would overdo things and that doesn't help.
"Something I feel I have learned the most from this year is to focus more on yourself, focus more on my work with my engineers with how I set up my car for myself and don't think so much about everything else. It's easy to do in Formula One because there are so many comparisons between team-mates, between other teams, there are always fights.
"But in the end if you do not perform at your top level then it won't be working anyway so I think that's the biggest lesson I've learned this season and it's nice also to see that is has shown in the season as well, that I sort of turned the season around. That's something I take strength from."
And Ericsson feels the fact he was able to acknowledge he had a mental weakness resulted in it becoming one of his biggest strengths.
"I would say the same topic. Also when you start the season like I did and at one point I was so far off my team-mate in the stats, it is quite tough mentally. I think the strength I've shown to sort of turn it around and all that has probably been one of the better things for the year."
Playing the joker: Sebastian Vettel
Technical feature: All of the 2015 F1 steering wheels