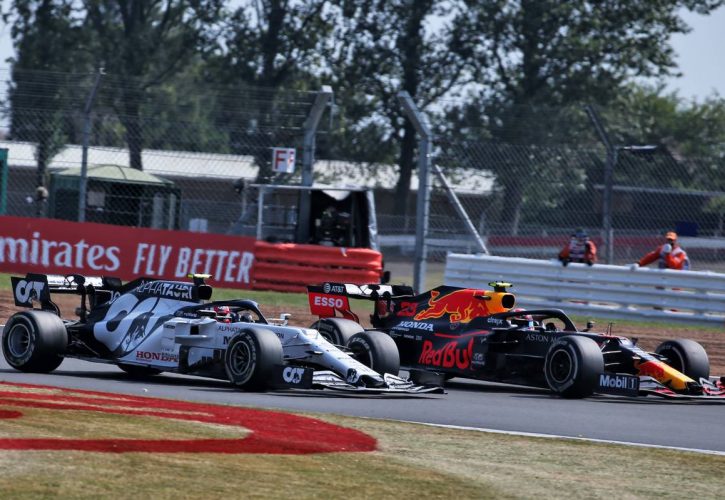 Red Bull's Alex Albon was amazed by his car's pace in Sunday's 70th Anniversary Grand Prix which he finished fifth but questioned where his RB16's speed was hiding on Saturday.
Albon had qualified almost half a second down on teammate and future race winner Max Verstappen, lining up ninth on Sunday's grid.
The British-Thai racer held his own at the start but was left chasing from way behind after an early pitstop sent him down the order where he was left to work his way through traffic.
But a remarkable effort brought Albon back among the top-ten by the hallway mark, the Red Bull charger continuing his progress thereafter to land himself a well-deserved spot among the top five.
"The car was really, really good," enthused the 24-year-old when all was said and done on Sunday.
"I was struggling a lot at the start to get past but once we got into the rhythm at the end and had our time to attack and overtake people one by one, the pace was there.
"The car was amazing today. Honestly, we need to understand why it was so good on Sunday and not Saturday."
For all the criticism of Albon's performance relative to Verstappen since the season got underway, and which Red Bull team boss Christian Horner has dismissed as unfair, Sunday's race offered the young bull an opportunity to prove his worth.
"Alex has actually raced phenomenally well this season," commented Horner.
"I think that it will give him added confidence, we just need to make sure he is starting further up the grid. Imagine if, with that pace, he started in P4 or five?"
Horner conceded that the early strategy call from the Red Bull pitwall had likely complicated Albon's afternoon, although it undeniably offered the latter an opportunity to showcase his overtaking skills.
"With 20-20 hindsight, maybe we should have run longer," admitted Horner.
"He ran into traffic quite quickly and lost quite a bit of time behind Gasly before passing him.
"Some of the manoeuvres that he pulled, around the outside at Copse on Raikkonen, same with Stroll I think.
"Some amazing and very brave passing manoeuvres because we weren't very quick at the end of the Hangar Straight, it was sectors one and two that he had to get the job done.
"I think he drove a really exciting and competitive race."
Gallery: The beautiful wives and girlfriends of F1 drivers
Keep up to date with all the F1 news via Facebook and Twitter