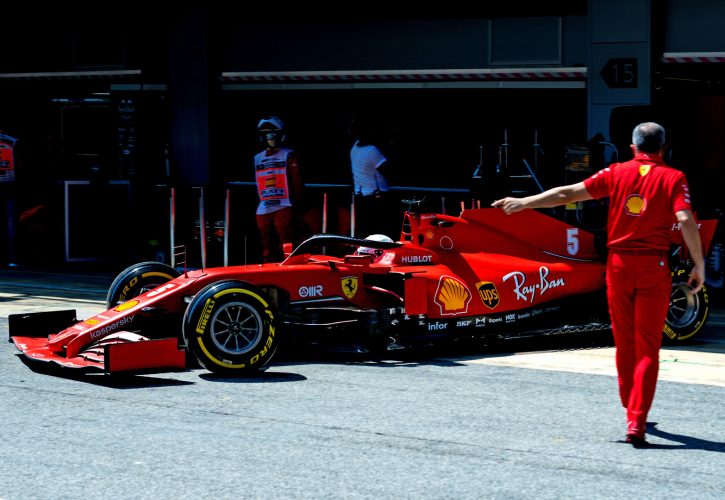 Sebastian Vettel will line up 11th on tomorrow's Spanish Grand Prix grid, a spot that reflected the German's continued under-performance at the wheel of a Ferrari SF1000 that he still does not fully understand.
Vettel was given a new chassis in Barcelona after the Scuderia identified a small crack in the tub of his Silverstone car. But the move was also destined to help the four-time world champion improve his performance relative to teammate Charles Leclerc.
Vettel admitted feeling a betterment on Friday saying his car "made a bit more sense", but qualifying offered another disappointing picture as the Ferrari driver failed to make the top-ten shootout for the second race running.
"The first sector was OK, but then in the middle sector the car started feel more and more nervous," Vettel explained after the Saturday afternoon session.
"I struggled in particular in Turn 7, losing the rear halfway, so it was difficult to judge how much speed to carry in. Also Turn 5 was very tricky for me this afternoon.
"That's the middle sector, and in the last sector, it got better towards the end, but still very tricky to find the right balance.
"It was one of the better sessions this weekend, but still obviously not good enough."
Overall, Vettel feels his car's behavior is "up and down" and remains a bit of a mystery.
"There are some things I can't really put an answer to," he said.
"But I'm trying to do everything I can and ignore all the things that might not be right and do the best that I can. That's all I can do at the moment."
Leclerc, who qualified P9 just 0.081s ahead of Vettel, underscored the SF1000 lack of front-end grip around Barcelona's high-downforce sweeps.
"I was just not happy with the car today," Leclerc said.
"This morning I was, the beginning of qualy was OK, but then it fell out, session after session in qualy.
"It just didn't have enough front end to rotate the car. We've lost quite a bit of time because of this, so now we need to understand why did this happen.
"It's something that we regularly have with this car, struggling with the front in mid-corner. Today, there were not really any solutions."
Gallery: The beautiful wives and girlfriends of F1 drivers
Keep up to date with all the F1 news via Facebook and Twitter