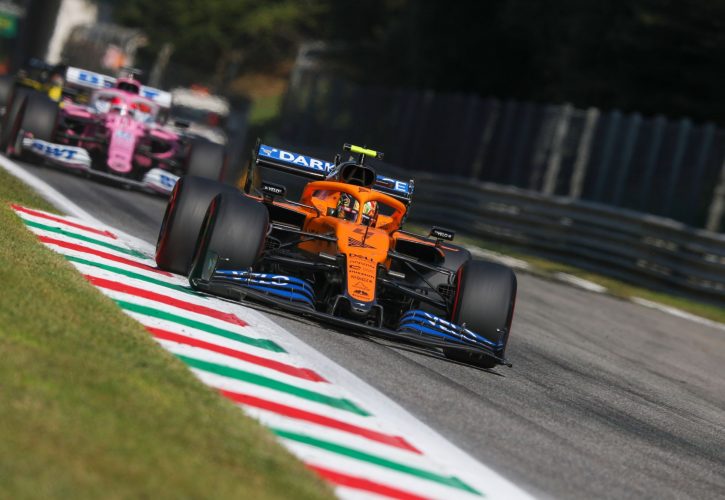 Lando Norris criticized an F1 sporting rule that allowed Racing Point's Lance Stroll to secure at Monza a podium finish the McLaren driver believes should have been rightfully his.
Stroll was among the drivers that did not pit during the Safety Car period in Sunday's Italian Grand Prix, a decision that pushed the Canadian up to second when the race was red flagged.
However, Stroll took on a fresh set of tyres during the interruption, a change permitted under the rules but that equated to a free mandatory stop or to roughly a 25-second gain for the Racing Point charger.
Having pitted just before the red flag was deployed, Norris, who was well ahead of Stroll before the deployment of the Safety Car, lost out big time to his mid-field rival.
"The only reason I think I was not on the podium today was Stroll benefited from a free pit stop. It is a stupid rule," recounted a frustrated Norris.
"They just get it for free and they don't deserve it, in many ways. I think it [the rule] should be taken out.
"I think we have the two examples. We've got Gasly who boxed just before [the Safety Car], he was ahead, the race gets red flagged and that's fair. You can't do anything about that.
"But for someone who just hasn't boxed, they have just gained 24 seconds for doing nothing.
"He should still have to pit. You can get lucky doing what Pierre did but I think that's still just fair play.
"But not having to box and not having to use that mandatory pit stop is a thing that I don't think is right."
Norris said he had nevertheless given it his all in his efforts to catch Stroll and dice with his teammate up front.
"I'm still proud, and the only way I would have finished in P2 was if I qualified ahead [of Sainz] on Saturday.
"I couldn't have got ahead of Carlos today. He did everything he needed to do. You can always do a better job but it doesn't mean you can just finish ahead of everyone even if you a perfect job.
"So, yeah, Carlos, did a good job.
"From my side I still think I did a good job. It wasn't a podium, but I think that was out of our hands. As a team, though, we did the best job today."
Gallery: The beautiful wives and girlfriends of F1 drivers
Keep up to date with all the F1 news via Facebook and Twitter