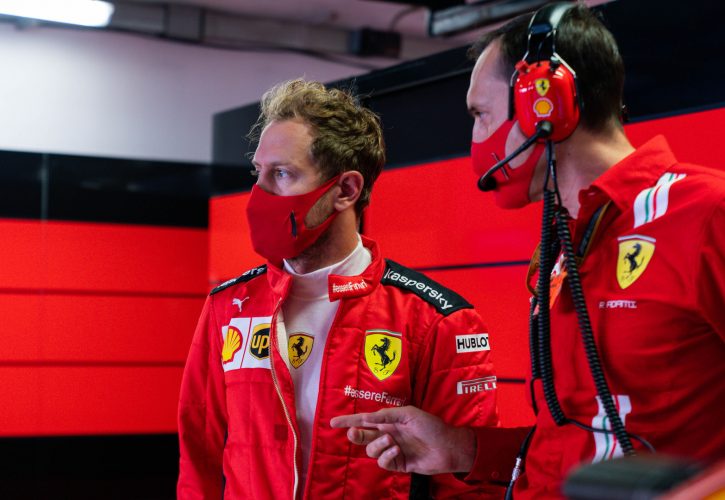 Sebastian Vettels says Ferrari "probably deserves" to be in its current difficult position, insisting there are no shortcuts to pull the Scuderia out of its slump.
The House of Maranello went from the frying pan into the fire at its home race on holy ground at Monza, with Charles Leclerc and Sebastian Vettel failing to qualify among the top ten and then dropping out of the race on Sunday, due to an error for the former and a brake issue for the latter.
Vettel admitted that keeping his head amid the struggles is a challenge.
"It is grown to my body so naturally it should be up, but maybe right now it is a little bit hanging to one side," the German said at Monza.
"There are no shortcuts in life and we are in this position because we probably deserve to be. We are suffering, the whole team is suffering, and I am one part of the team."
"Everything happens for a reason, and we are slow for a reason. It is tough, and I am not the only one who is suffering."
Ferrari's potential for improvement this season is limited given F1's restrictions on development. But Vettel still believes there is room to move its SF1000 car forward.
"It is very difficult for us at the moment for the whole team," he added. "But we are in that position and we need to try to do the best we can to have a worthy ending to the season.
"We still have lots of races ahead of us and still a lot of stuff to pick up and understand, so there is plenty of work. We have to be focused on that.
"If I could choose, I don't want to be here. I want to be in the car on the track right now, and not at the back of the field. But sometimes you don't get to choose, and you have to deal with what you have.
"At the moment that is what it is, so we have to keep our heads up, even if it is difficult."
Gallery: The beautiful wives and girlfriends of F1 drivers
Keep up to date with all the F1 news via Facebook and Twitter