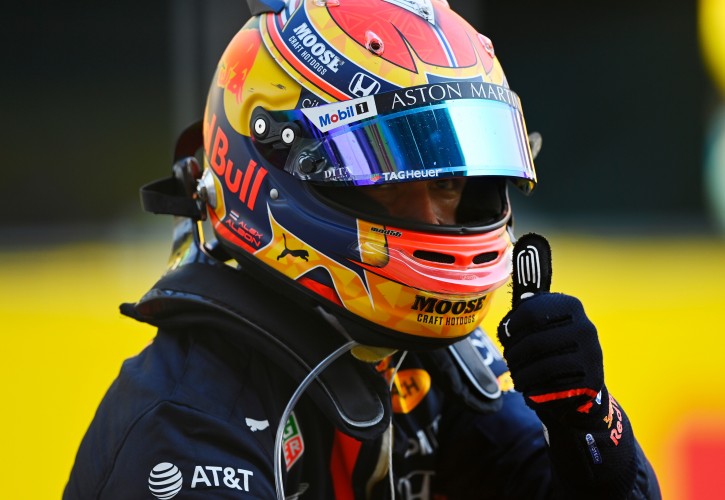 Red Bull team boss Christian Horner believes Alex Albon's maiden F1 podium will have delivered a timely "boost of confidence" to the British-Thai racer.
After two misses, in Brazil last year and Austria earlier this summer, Albon finally broke his duck and secured a career first top-three finish at Mugello last weekend.
The gratification came after a solid drive in the eventful race in Tuscany but also amid a difficult season during which the 24-year-old has struggled to keep up with Red Bull teammate Max Verstappen, a shortfall that led many to question Albon's position in the team.
Horner reckons last Sunday's timely result can spur Albon on from this stage forward.
"The disadvantage is, if anything, he is too nice," Horner told Sky F1 at Mugello. "But once he puts the helmet on you can see there is a real racer there.
"I think there is a big difference between thinking you can do it and knowing you can do it.
"I think this podium for him will give him a boost of confidence and self-belief. I think he really will build from here quite nicely."
Albon's spirited drive at the challenging Tuscan Grand Prix venue saw the Red Bull charger pull off a few spectacular moves, one of which was a bold move on the outside of tough rival Daniel Ricciardo to snatch third in the closing stages of the race.
"It is really impressive and we see it time and again with him," Horner commented. "His placement of the car is really good and I think Daniel is a hard guy to pass.
"So to make that move around the outside and to make it stick, all credit to him."
But Albon's skills on the track are also backed up by his excellent technical feedback, a strength that can only help his development insists Horner.
"He has a really good sensitivity for the car and I think he has really won the respect of the engineers for that, so I think as that starts to come through, the developments that start to come through, I think that will only help him," Horner said.
"Hopefully some of this instability of the rear that we have been having, which affects him and in fact Pierre last year, that Max isn't really affected by, I think it will start to come his way a bit."
Gallery: The beautiful wives and girlfriends of F1 drivers
Keep up to date with all the F1 news via Facebook and Twitter