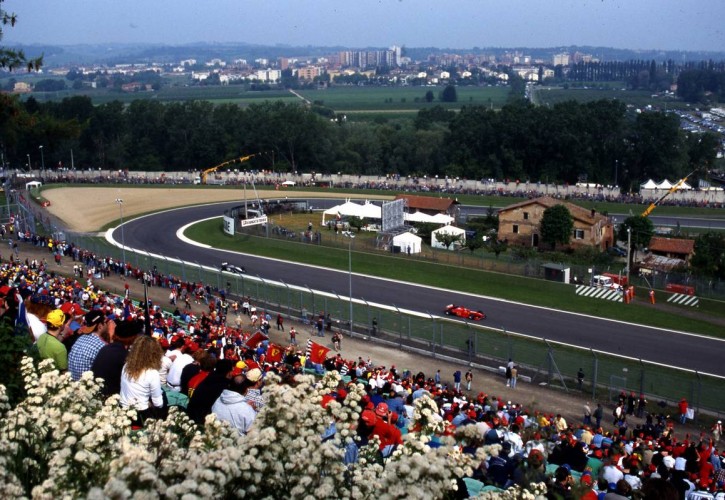 Emilio Romagna Grand Prix organisers will open Imola's gates at the end of this month to 13,000 races fans on each of the event's two days.
Formula 1 will return to Imola on October 31 and November 1 for the first time since 2006 to host a two-day event that will include one practice session and qualifying on the Saturday.
As Italy continues to heal from the devastating impact of the coronavirus pandemic last spring, the historic venue will welcome a contingent of spectators into its grandstands, a public presence made possible by a "meticulous anti-Covid health security protocol" according to Imola.
Tickets have been on sale for over a week, with a quota reserved for local residents, while 500 Paddock Club guests will also enjoy access to the venue.
The Emilio Romagna Grand Prix will take place just one week after the Portuguese Grand Prix at Portimão, a proximity that justified dropping Friday's running and compress the action into two days.
"It will be an extraordinary and legendary event for those who loves F1," Imola boss Uberto Selvatico Estense told Autosport.
"We are proposing different solutions about parking in order to organise the access to the grandstands in a different way.
"We'll use all the grandstands of the circuit. We're planning to use three empty seats [between groups of people] in order to maintain the social distancing.
"Considering that spectators will be in grandstands located in open air it will be really safe for everybody.
"So we're working on blocks of 1000 people each, and each block will have its own parking.
"In this way we think we will be able to control and secure everything from the health point of view."
Last week's Russian Grand Prix at Sochi was the first race of the 2020 season to enjoy a healthy fan presence, while a limited number of spectators - members of Italy's Scuderia Ferrari Club - attended the Tuscan Grand Prix at Mugello a week before.
Gallery: The beautiful wives and girlfriends of F1 drivers
Keep up to date with all the F1 news via Facebook and Twitter