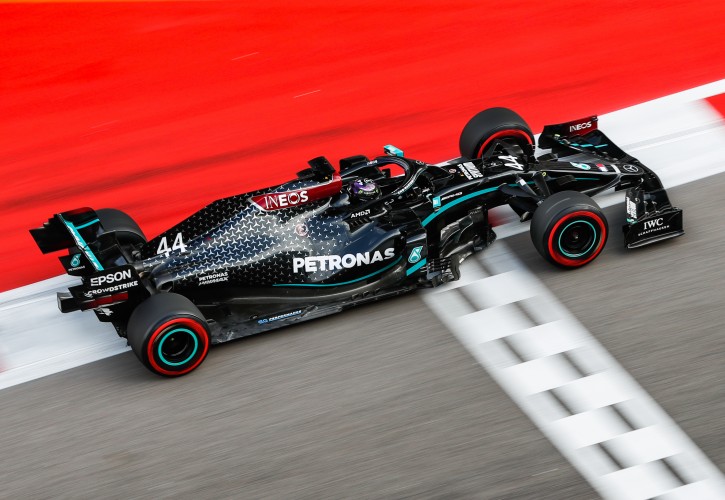 Red Bull team boss Christian Horner says that Mercedes' winning W11 is the "most complete and rounded car" ever fielded by the German outfit.
Mercedes' 2020 Black Arrow has won eight out of the ten races disputed so far this season and secured pole position at every single round.
Red Bull has been Mercedes' closest contender but so far, the Milton Keynes-based squad's RB16 has only defeated its rival once, courtesy of Max Verstappen at Silverstone.
Horner admits that catching and overhauling Mercedes next year will be difficult to achieve within the context of the current regulations that will limit the scope of development in 2021. But progress can still be made.
"There is no silver bullet," said Horner. "We need to improve across all areas of the car. So the whole team and together with Honda, we are focused on doing that.
"Mercedes has done a very good job this year: it is probably their most complete and rounded car probably of the last six or seven years for them.
"So, they've set the bar very high but, you know, that's what we have to aim for."
Horner insists that there is certainly more development to carry out and potential to unlock regarding its RB16, whose unpredictive nature has proved challenging for Verstappen and even more so for teammate Alex Albon.
"Obviously this car is the basis of next year's car," Horner explained.
"There's probably about 60% of the car that is carried over, so you know obviously we're working very hard to understand and unlock further performance in the car between now and the end of the year.
"There's about three months left of hard development. And the whole team is very focused on that."
And Horner insists Honda is working hand-in-hand with its partner to improve the RB16's performance.
"It's about working together and we share the same goal, we share the same objective," he added.
"I'm confident we can collectively get there. Mercedes have had such a period of domination but as we all know, in sport, at some point in time that will come to an end. That's inevitable."
Gallery: The beautiful wives and girlfriends of F1 drivers
 Keep up to date with all the F1 news via Facebook and Twitter