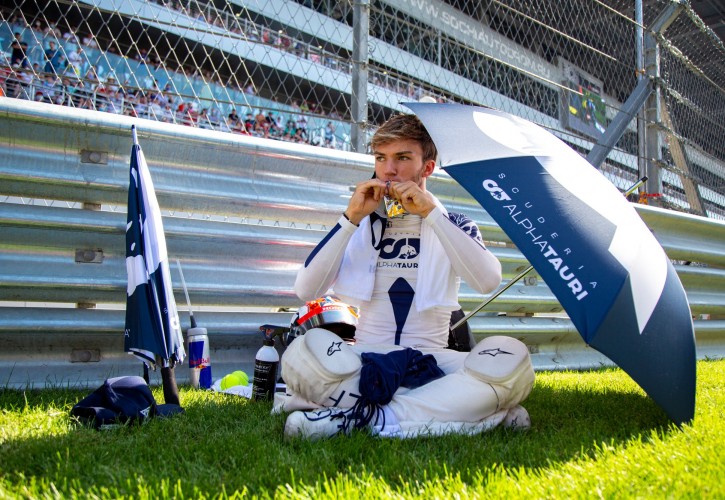 Red Bull motorsport boss Helmut Marko has confirmed that Pierre Gasly will be racing with AlphaTauri next season, dismissing calls for the Frenchman to return to Red Bull Racing.
Beyond his shock win in the Italian Grand Prix last month, Gasly is enjoying a solid season with Red Bull's B-team, comprehensively outperforming teammate Daniil Kvyat and restoring his much-needed confidence after his disappointing 12-race stint with Red Bull last year and subsequent mid-season demotion.
Gasly's fifth-place performance in Portugal coupled with another poor showing by RBR's Alex Albon has encouraged the AlphaTauri driver's fans to call once again for his return to Milton Keynes where they feel his talent belongs.
RBR boss Christian Horner has excluded the possibility of an in-season swap with Albon despite the latter's under-performance.
"We have a lot of information on the drivers over a big period of time," Horner said. "Pierre's done a super job and he's driving very well in that environment with AlphaTauri, he's comfortable in that car with perhaps the less pressure that goes with that environment as well, and less expectation.
"I think their aspirations as a team are different to as it was as Toro Rosso so it makes sense that the fit works well in both directions with Pierre and the AlphaTauri team."
Marko has also rejected the idea of giving Gasly another chance with the senior bull squad next season, insisting the team will look outside its pool of drivers for an eventual replacement for Albon.
"We have made our decision for Gasly," Marko told RTL. "He will drive for AlphaTauri and his team-mate will be announced after the Bahrain Grand Prix at the latest."
Gasly near-term future appears therefore to be set in stone. As for the identity of the driver that will sitting on the other side of the AlphaTauri garage, all signs point to Japanese F2 racer Yuki Tsunoda.
The highly rated 20-year-old Honda protégé, who has won twice in F2 this year with Carlin, will enjoy an outing at Imola with AlphaTauri after next weekend's Emila Romagna Grand Prix.
As for Albon, the British-Thai racer's stock wasn't boosted by his lacklustre performance last weekend at Portimão. But his fate remains in his hands, insisted Marko.
"Alex needs more consistency," he said. "Sometimes he is not far behind Max but sometimes the gap is too big.
"While he is progressing, he is our driver and we are in no hurry to decide."
Gallery: The beautiful wives and girlfriends of F1 drivers
Keep up to date with all the F1 news via Facebook and Twitter