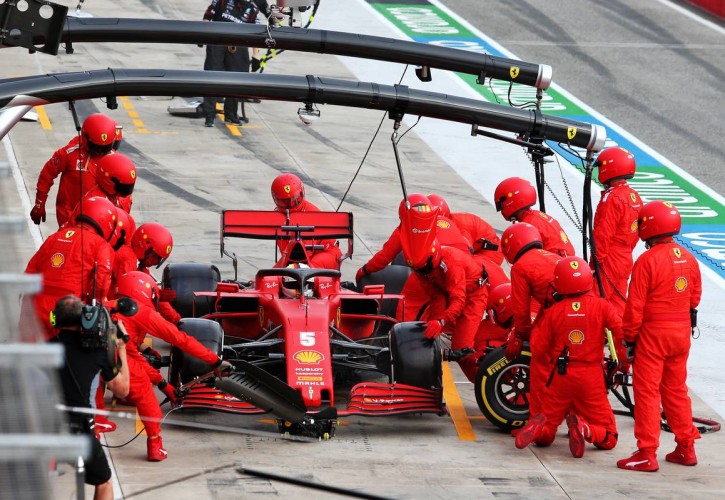 Ferrari say a stripped wheelnut caused the lengthy pitstop that likely deprived Sebastian Vettel of a points haul at Imola.
An extended 39-lap first stint on Pirelli's medium tyre had carried Vettel all the way up to fourth in Sunday's Emilia Romagna GP.
The subsequent pitstop should have allowed the German to slot himself back in among the top ten and take it from there for the remaining 24 laps.
But an issue with the wheelnut on the front right wheel of the Ferrari caused a ruinous 10-second delay that undermined Vettel's chances of points.
"We tried to come back with the Soft tyre at the end, but it was very difficult to make progress in a train of cars," Vettel said.
"This is clearly not the result we wanted and for sure not the one we would have deserved.
"I was comfortable in the car even if this year the problem is more severe in qualifying, where I struggle to get a feel for the car.
"We have to remain patient and continue to make gradual progress, as we have been doing, given that we missed Q3 by just two tenths.
"If we can start from a bit higher up the grid, the next races could bring us better results."
Ferrari team boss Mattia Binotto apologized to Vettel for the scrappy pitstop but underlined what he otherwise viewed as a strong race from the four-time world champion.
"Seb… had a strong race, and we are very sorry for the problem at the pit stop that robbed him of a top-10 finish, thus losing the chance to pick up valuable points," said Binotto.
"It's clear to see that we are consolidating the progress we have made in recent races, especially in terms of race pace at a variety of tracks with very different characteristics.
"That's important for the rest of this season and for the next one."
Vettel's misfortune at Imola was just another setback in the 33-year-old's dismal 2020 campaign in which his best result so far is a modest P6 finish at the Hungarian GP.
Vettel currently stands 14th in the Drivers' standings with 18 points, or 67 points adrift from Scuderia teammate Charles Leclerc.
Gallery: The beautiful wives and girlfriends of F1 drivers
Keep up to date with all the F1 news via Facebook and Twitter