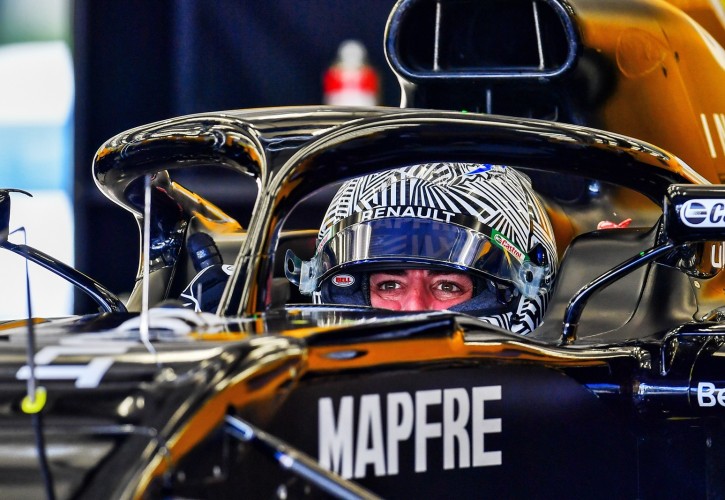 Renault's Fernando Alonso will take part in F1's post-season 'Young Drivers' Test' in Abu Dhabi after the French outfit was granted an exemption by the FIA.
Renault requested the waiver to allow the two-time world champion to continue his preparations for his return to the grid in 2021, and crucially at the wheel of the Enstone squad's current-spec R.SD.20 car.
Alonso was recently provided the opportunity to warm up to his new team with a filming day out at Barcelona and several outings at the wheel of an R.S.18.
The Yas Marina test - scheduled on December 15, two days after the Abu Dhabi GP - is restricted to young drivers "who must in possession of an International A Licence, and unless otherwise approved by the FIA, not have competed in more than two F1 World Championship races during their career".
As Renault lobbied F1's governing body for an exemption, several teams - including Ferrari and McLaren - expressed their opposition to the French team's squad's initiative to run Alonso.
"It was the usual stuff of trying to play any little game possible," said at the time Renault F1 boss Cyril Abiteboul. "But most teams are more pragmatic. We just need to hope the FIA will be. Renault does so much for young drivers."
Renault lobbying has paid off and it has been granted an exemption by the FIA. As for Fernando Alonso, the 39-year-old will be, for the space of a day, a "young driver" once again.
But the Spaniard won't be the only F1 veteran to turn spring chicken for a day in Abu Dhabi.
It is understood that Alfa Romeo will run 35-year-old Robert Kubica at Yas Marina while Red Bull will give track time to 32-year-old Sebastien Buemi.
Gallery: The beautiful wives and girlfriends of F1 drivers
Keep up to date with all the F1 news via Facebook and Twitter