Sergio Perez claimed a dramatic maiden Formula 1 victory in the 2020 Sakhir Grand Prix, in what could prove to be his penultimate race in the championship.
The win came despite first lap contact with Charles Leclerc that also resulted in retirement for Max Verstappen. Esteban Ocon finished the race in second for Renault, while Perez' Racing Point team mate Lance Stroll claimed the final podium position.
It had looked like a firm Mercedes one-two was on the cards until a disastrous late pit stop under a safety car saw a mix-up in tyres in the Mercedes garage, costing George Russell control of the race. Even so, Russell was on course to retake the lead again only to suffer a slow puncture in the closing laps.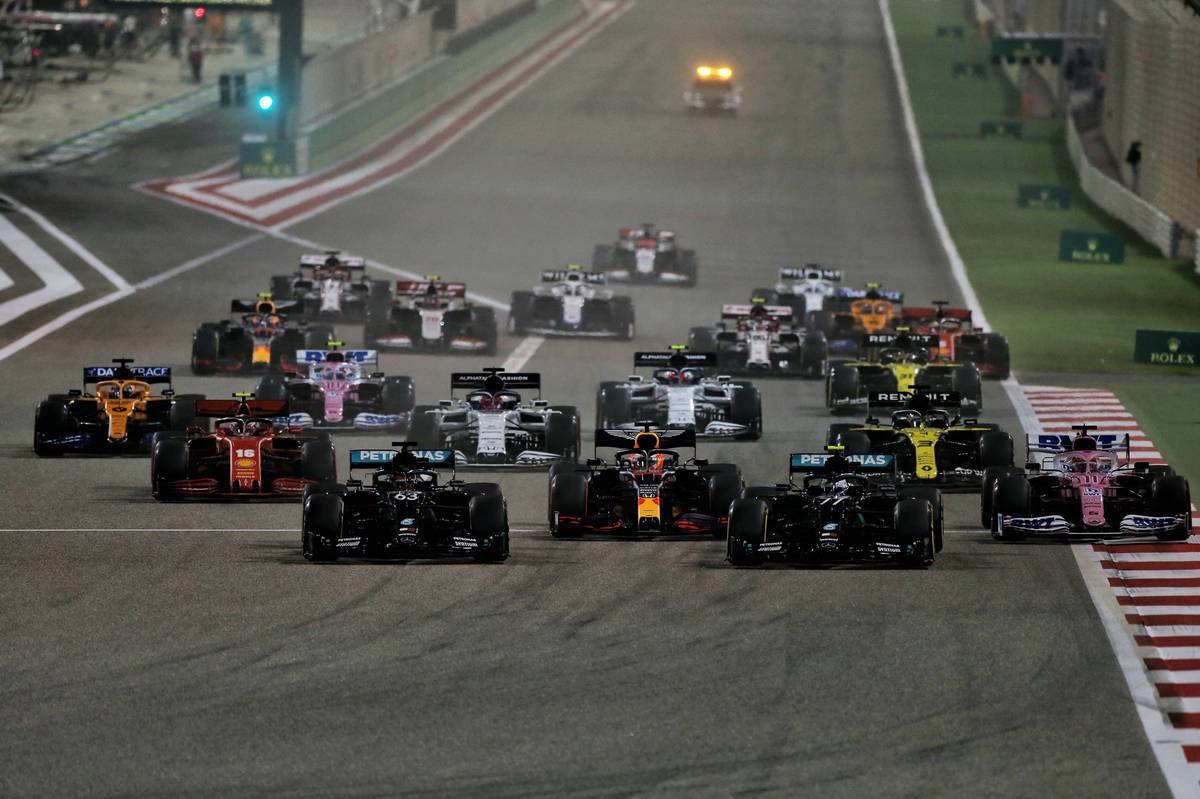 Just seven days after the Bahrain Grand Prix, Formula 1 was back on track for the last-but-one race of the season - but it was a somewhat altered driver line-up and a very different Bahrain International Circuit layout in prospect. With Lewis Hamilton absent following a positive coronavirus test and Romain Grosjean recovering from injuries after his miraculous escape last week, we had George Russell promoted into the Mercedes on the front row alongside team mate and pole sitter Valtteri Bottas. Pietro Fittipaldi was at the other end of the grid in the Haas, while also making his F1 debut this week was Jack Aitken car-sitting for Russell at Williams.
While the start/finish line was the same as last week's, the rest of the circuit was another matter entirely: being used for the very first time, the outer loop was more akin to a IndyCar-style oval. Just 3.543km (2.2 miles) long and 11 corners (but many of them barely deserving the designation) it made for Formula 1's first sub-one minute lap. The downside to that is it meant there would be 87 fast and furious laps in 2020's sole night race under the powerful flood lights, enough to make anyone's head spin.
When the race began, Russell put aside any nerves to execute a strong start putting him right alongside Bottas going into turn 1, blocking any move from Max Verstappen starting from the second row. Bottas was forced to drop back and he then got out of shape on the exit, leaving him battling to stay ahead of Verstappen, Charles Leclerc and Sergio Perez. The Racing Point pulled across the front of the Ferrari and they connected, forcing the Red Bull to run off the track to avoid the incident - and straight into the dust and gravel. Unable to stop in time he went crunching into the barrier, his race over prematurely as the safety car was scrambled.
Leclerc had also sustained too much damage to continue, but at least Perez was able to limp back to pit lane for new tyres before rejoining at the back of the pack alongside Alfa Romeo's Kimi Raikkonen, who had suffered a separate first lap spin of his own. In contrast it had been an excellent start for Lando Norris, the McLaren having leapt up to tenth place from a back row start following an overnight engine change.
The race resumed after seven laps, and once more Russell belied his lack of race experience in the W11 to master the restart while Bottas had his hands full again just to keep hold of second, with Carlos Sainz and Daniel Ricciardo keen to pounce if and when the opportunity arose. Further back there was more good news for Norris who was now up to ninth after a slick pass on Sebastian Vettel in the sole remaining Ferrari. Vettel's slide continued as he soon also fell foul of Alex Albon and the fast-recovering Perez
Norris' forward momentum faltered as his soft tyres reached the end of their useful life forcing him to pit on lap 21 just after ceding spots to Albon and Perez; moments later Perez essayed a beautiful pass on Albon down the inside of turn 5 to move up to ninth place. Antonio Giovinazzi and Kevin Magnussen were next to pit on lap 28, followed next time around by the first of the top ten runners, AlphaTauri's Daniil Kvyat, which obliged others including Carlos Sainz, Pierre Gasly and Daniel Ricciardo to respond in short order.
Having started the race on medium tyres, the two Mercedes cars were able to stay out somewhat longer: by lap 40 they were over 20s (almost half a lap) ahead of Lance Stroll and Esteban Ocon who had also been able to run long on softs and mediums respectively. Perez was back up to fifth ahead of Albon and Sainz, with Kvyat ahead of Ricciardo and Gasly. Norris was back to 11th ahead of Vettel who was now a lap down followed by Nicholas Latifi, Antonio Giovinazzi, Kevin Magnussen and Jack Aitken, with Kimi Raikkonen and Pietro Fittipaldi stuck at the back.
Ocon pitted on lap 42 with Racing Point calling Stroll in next time by in an effort to maintain position, but Ocon was able to use his one lap warmer tyres to wrest ninth place from the Canadian. A few minutes later it was finally time for the race leader to come in for a set of hard tyres, and the stop appeared to go like clockwork despite an anxious radio message from the cockpit reporting a momentary loss of power. The sensor glitch was soon sorted out by a settings adjustment, and while it had cost him some time he was still easily back in the lead once Bottas made his own stop on lap 50. Both drivers then received warnings about track rod overloads as a result of the punishing kerbs, with Russell continuing to report reduced power down the straights.
Pit lane wasn't quiet for long before those on two-stop strategies starting making return visits, beginning with Gasly on lap 53 followed by Kvyat. A brief virtual safety for the stationary Williams of Nicholas latifi then expedited the cycle as Vettel and Norris took advantage of the 'free' stop, but the VSC proved shorter than Sainz and Ricciardo needed. The situation had played into Perez' hands, the Mexican having made rapid passes on Stroll and then Ocon to move up to third place with less than 30 laps remaining.
Lap 61 saw a last turn spin for Aitken, the Williams clobbering its nose on the outside barrier which deposited the broken front wing in the middle of the track. A VSC didn't give the marshals sufficient time to safely recover it and a full safety car was scrambled instead. Mercedes responded by calling in both cars and 'double stacking' them, but the rush resulted in a terrible mistake with Russell receiving some tyres intended for Bottas instead of his own. Bottas' own tyre change had to be abandoned and rolled back mid-way through, while Russell was forced to come back to pit lane for the set of fresh mediums he should have had first time through.
The uncharacteristic confusion at Mercedes had left Perez in control of the race ahead of Ocon and Stroll with Bottas now in fourth ahead of Russell. Sainz and Ricciardo were next in line ahead of Kvyat, Gasly and Albon, while Norris was still just on the outside of the points in 11th. When the race resumed, Russell was able to use his fresher tyres to force his way past Bottas with a daring move around the outside of turn 7, and moments later a fired-up Russell also muscled his way past Stroll in turn 1 for third place.
There was no stopping the Briton, who cruised past Ocon for second place in turn 4 leaving him three and a half seconds off retaking the lead of the race from Perez - but the laps were running out fast. And then his remaining hopes were emphatically put to the sword by a rear left puncture that forced him to make another pit stop dropping him out of the top ten entirely, while things were also turning sour for Bottas whose worn tyres left him unable to defend against a succession of passes from Sainz, Ricciardo, Albon and Kvyat.
With the pressure off, Perez held on to the lead to claim victory by ten seconds over Ocon and Stroll, with Sainz and Ricciardo just missing out on the podium. Albon was sixth followed by Kvyat, while Bottas stabilised in eighth which ultimately proved to be just ahead of Russell who had made late passes on Gasly and Norris to finally claim his maiden championship points - but nonetheless tinged with disappointment at what had slipped through his fingers through no fault of his own.
Vettel crossed the line in 12th followed by Giovinazzi, Raikkonen, Magnussen and rookie Aiken and Fittipaldi, with three retirements in the form of Latifi, Leclerc and Verstappen.
Gallery: The beautiful wives and girlfriends of F1 drivers
Keep up to date with all the F1 news via Facebook and Twitter