F1i readers, we've tallied your votes on Formula 1's idea to spice up the action on Grand Prix weekends by holding a Sprint Race on Saturday afternoon to determine the grid for race day.
The concept, which could be trialed at three venues this year, received the initial support of the teams when it was tabled last week at a meeting of the F1 Commission.
However, teams had more questions than answers over the idea. So a working group has been set up to conduct a more in-depth study to determine the logistical and cost implications of introducing a short 100-kilometer sprint into F1's qualifying format.
A formal vote is expected to take place ahead of the start of the 2021 season, but we opened our polling station early for F1's impassioned who voted majoritively… in favour of a Saturday Sprint Race!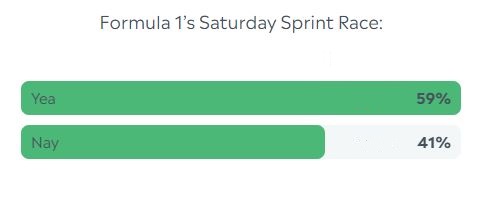 While not overwhelming, the 59% 'yea' vote proves that the concept at least holds merit as far as the fans are concerned and is worth a shot.
Apart from McLaren's Daniel Ricciardo and Lando Norris who are both keeping an open mind on the Sprint Race plan, few drivers have expressed an opinion on the matter so far. But that's likely because of their current lack of exposure to the media during the off-season.
With team presentations now unfolding and ramping up, more opinions on the subject are sure to be voiced. But the teams will have the final say, so stay tuned.
Gallery: The beautiful wives and girlfriends of F1 drivers
Keep up to date with all the F1 news via Facebook and Twitter