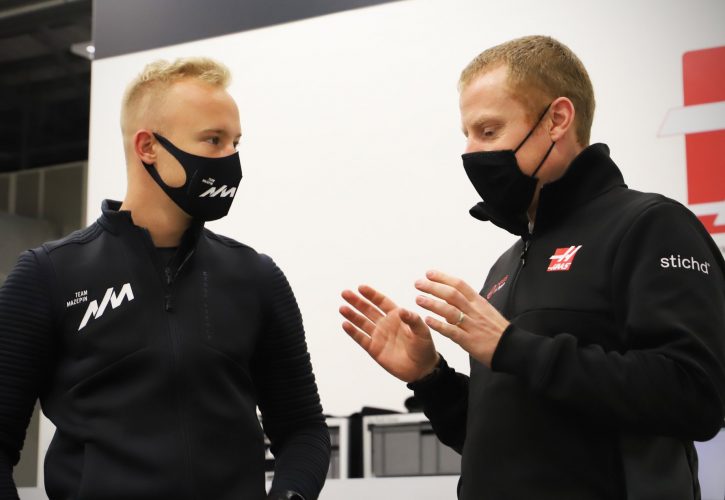 Haas F1 rookie Nikita Mazepin remains the target of strong criticism on social media as a result of the controversial video he posted of himself and a woman the back of a car in Abu Dhabi.
Three months later, the team continues to be barraged by posts bearing the hashtag #SayNoToMazepin demanding that Haas fire the 21-year-old Russian driver before he even makes his F1 debut next month in Bahrain.
The squad's management said that the matter had been dealt with internally, with team principal Guenther Steiner insisting that Mazepin had learned from the experience and wouldn't make the same mistake again in the future.
"We continue to have dialogue with Nikita about many things, including what happened at the end of last season," he told RACER magazine.
"He took immediate responsibility for his actions," Steiner added. "He apologised. He's learned from this experience. He's undoubtedly been chastened by it, and he'll apply that moving forward in his Formula 1 career.
But Steiner admitted that the furore sparked by the original video continues to rage online. "The response on social media towards him is still strong, we're naturally aware of that via our team posts.
"While respecting that people are entitled to voice their opinions, no matter how vigorous, as a team we feel we have provided Nikita with the best environment to learn from this.
"With Bahrain fast approaching, the opportunity to concentrate on the season ahead," he added, with Mazepin visiting the team factory this week for a seat fitting.
Steiner's view on the matter was backed by team owner Gene Haas. "Our response to it was I think Guenther told him that he was an idiot and you can't do things like that and it was totally unacceptable.
"I think he got a lot of criticism from all sides that just piled on him," the American businessman continued.
"The social media response from all kind of groups was extremely strong, wanting us to execute him for what he did. But that didn't feel like the right course either."
"He's 21 years old," Haas pointed out. "For a young man the deluge of criticism must have been difficult to take.
"I'm hoping it's a good lesson learned," he added. "We'll just have to see how that goes."
Gallery: The beautiful wives and girlfriends of F1 drivers
Keep up to date with all the F1 news via Facebook and Twitter