McLaren boss Zak Brown has clarified his recent controversial comments about Mercedes' 2022 driver line-up, insisting his words merely reflected his opinion and were not a prediction.
Ahead of the opening round of the 2021 F1 season in Bahrain, Brown chimed in on the speculation surrounding Mercedes' line-up for next year in light of the fact that both Lewis Hamilton and Valtteri Bottas' contract with the Brackley squad expire at the end of this season.
Brown made the bold claim - which he labeled as an "obvious conclusion" - that Hamilton would retire while Mercedes would not renew Bottas' deal, and that the German outfit would entrust its cars to Max Verstappen and to George Russell.
Mercedes boss Toto Wolff was unimpressed with his colleague's two cents and caused a stir of his own in an interview with Austrian newspaper Osterreich, allegedly saying that "Brown is like Christian Horner, they just spread shit!".
Wolff later claimed that he was misquoted, and actually said "they give each other shit a lot".
"It's not quite the same," added Wolff. "Zak is a big part of the Mercedes family and a friend. With all the banter that we have between us, it's not something that I would accuse him of."
Brown has followed suit, clearing up his own commentary and remarks, insisting he expressed a conditional "view" rather than a bold "prediction" about Verstappen and Russell's future.
"I don't necessarily think it [will happen]," said Brown, about the two drivers being paired at Mercedes in 2022.
"Someone just asked me 'what do you think the driver market will look like next year?' I believe George is out of contract and obviously has a Mercedes relationship and did a great job in Bahrain [at the 2020 Sakhir Grand Prix, when he deputized for Hamilton at Mercedes].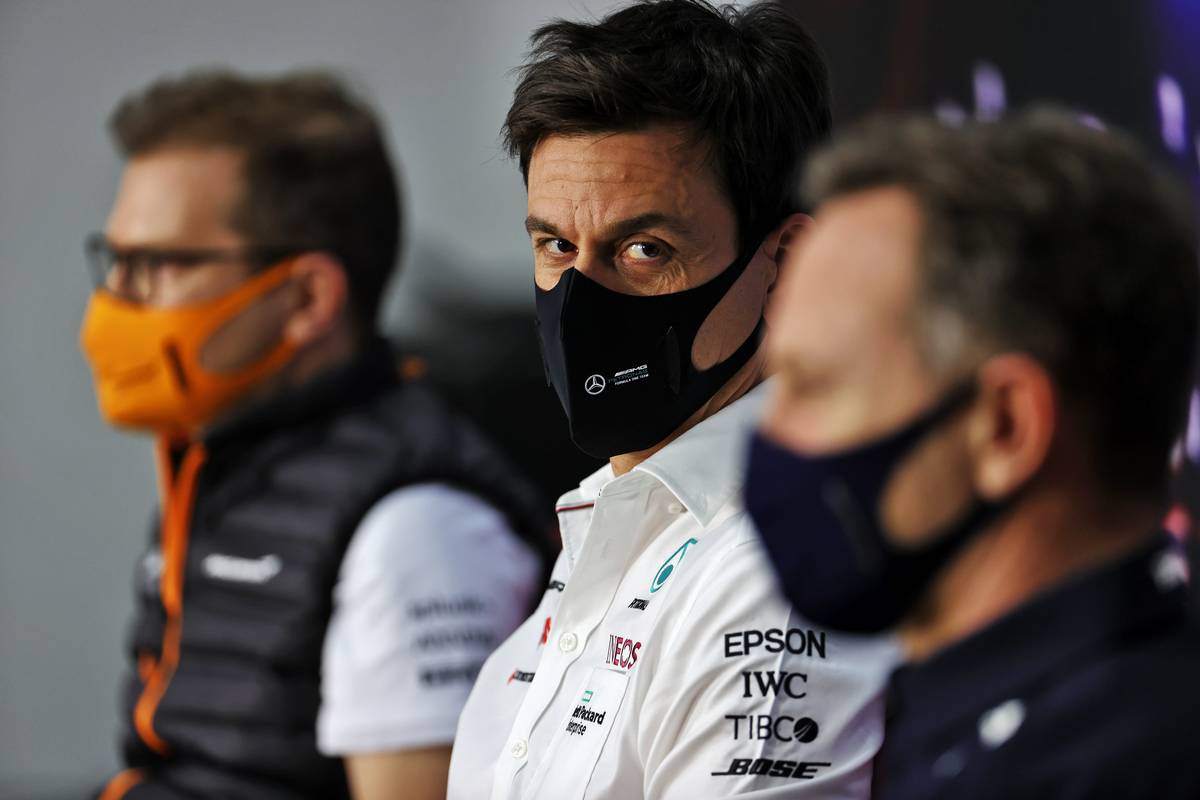 "Max, I've never seen his contract but I understand there's probably a possibility for him to drive elsewhere, and Mercedes and Toto are able to attract an awesome driver line-up.
"So if those two guys are floating around, depending on what Toto decides with his current driver line-up, you could see that happening.
"I was asked the question – it wasn't a prediction, it was an opinion."
Regardless of how the future will pan out for Mercedes' drivers, Wolff says he'll likely be seeking clarity on his line-up over the summer.
"We don't want to leave it until January to confirm the two drivers," said Wolff;
"Valtteri was pretty regular during the summer, this is when it should happen. Also, to give the driver peace of mind or be able to concentrate on the job.
"And obviously for next year there's lots of balls in the air and we will always try to do the best for the team long term, while also giving total loyalty to our current driver line-up.
"We are not doubting either Valtteri or Lewis but discussions obviously will happen – but not in January next year."
Gallery: The beautiful wives and girlfriends of F1 drivers
Keep up to date with all the F1 news via Facebook and Twitter