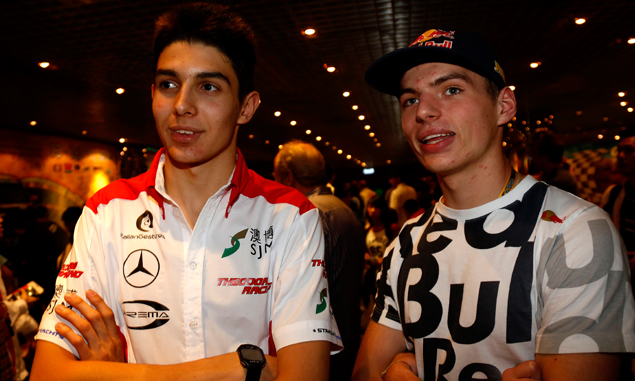 Newly-appointed Renault third driver Esteban Ocon says he was "truly impressed" by Max Verstappen's rookie grand prix season, and hopes he can soon join his former rival in the top flight.
Although Ocon beat Verstappen to the 2014 FIA European Formula 3 title, it was the latter who garnered the most attention in what was then his first year competing in single-seaters.
Verstappen's rise to prominence was capped by a shock promotion to Toro Rosso aged 16, while Ocon experienced a winter of uncertainty before securing a deal with ART Grand Prix in GP3 Series.
The Dutch phenom took F1 by storm in 2015, scoring 49 points and showing a flair for the genial overtaking moves.
"I think [Verstappen] performed superbly on his F1 debut," Ocon told F1i at the Renault F1 launch. "I was truly impressed with what he achieved at such a young age.
"That makes me even prouder to have beaten him in F3. He is a real tough racer and I look forward to joining him on track in the near future."
Ocon's 2015 campaign was also successful since he won GP at the first attempt. Besides his reserve role with Renault, the 19-year-old has yet to announce his plans for the upcoming season. Quizzed about his preferred option, Ocon replied:
"Ideally, I want to race in DTM. I like how the drivers cooperate with the teams. Unlike in the junior single-seaters categories, you represent a manufacturer, so the way you work is closer to what happens in Formula One. In my opinion, I'd be better prepared for F1 by racing in DTM.
"Plus, there are only top drivers in the series. It is extremely competitive with only a handful of tenths covering the whole grid: that's quite remarkable. This only serves to reinforce my belief that DTM is more competitive than GP2."
The men behind the Renault F1 return
Force India winter diary part four - Technical Director
Feature: How to fuel success in F1