Carlos Sainz says he's still in the process of understanding how to optimize his launch off the grid with Ferrari's car, an exercise in which he excelled previously at McLaren.
In the past, Sainz's lightning fast starts have allowed the Spaniard to gain many positions over his rivals on a race's opening lap.
But this year, the 26-year-old is taking a more conservative approach to his starts, aiming first and foremost to keep himself out of trouble as he continues to learn the intricacies of his new car.
"I was just going through a big data analysis with my engineers 10 minutes ago, trying to understand what I could have done better," said Sainz, a few hours after last Sunday's Spanish GP.
"What is clear is that I still need to get a bit better, and a bit more confidence with the start system and the way we operate to get that perfect launch and that perfect first 100 metres."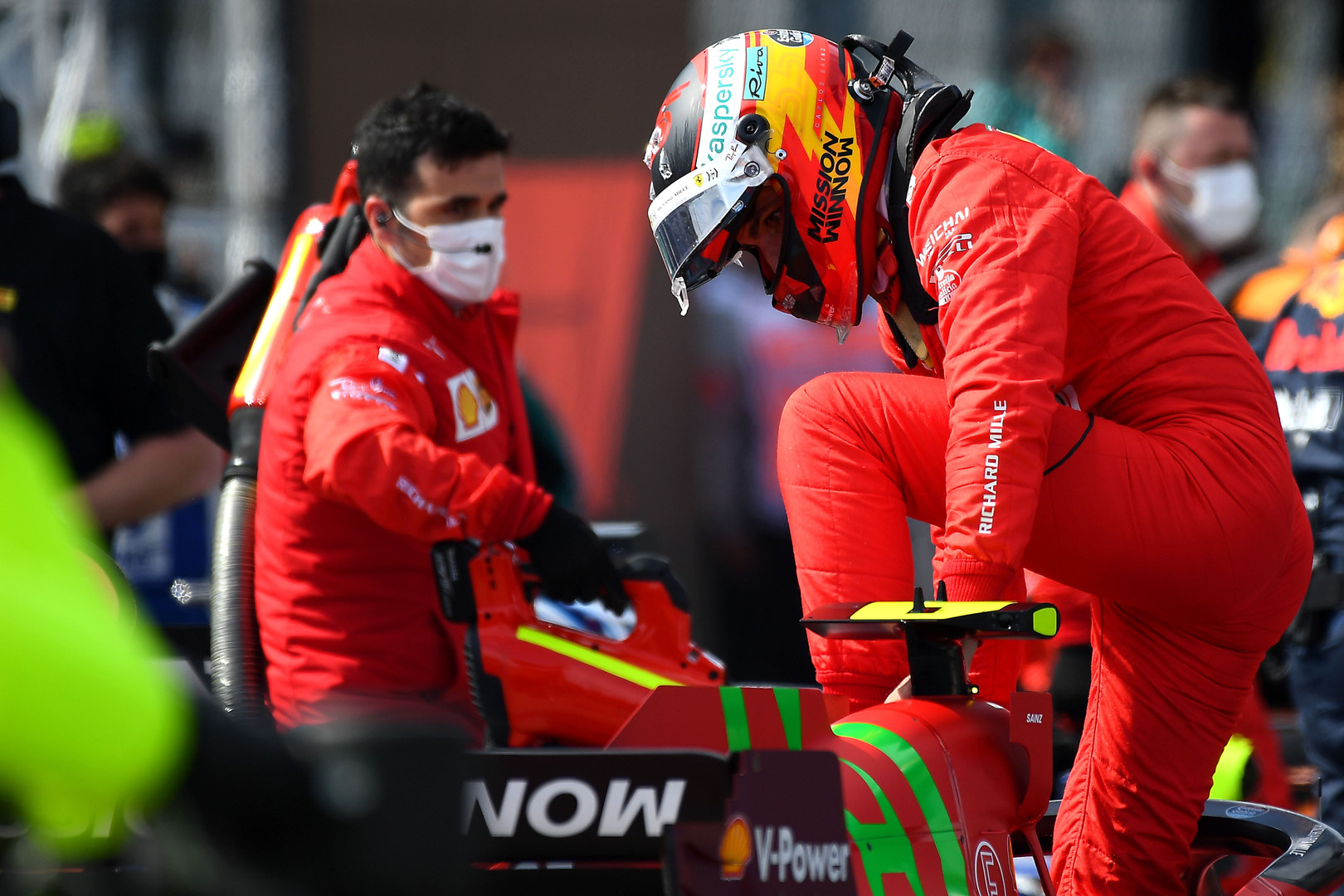 Sainz qualified P6 at the Circuit de Catalunya but lost out to both McLaren's Daniel Ricciardo and Red Bull's Sergio Perez on the opening lap. However, that relatively subdued start was not caused by a lack of promptness off the line.
"I don't think [the start] was the main limitation today," the Ferrari driver explained.
"The main limitation was a bit the positioning after that, getting in and out of the slipstream and being boxed in behind Ocon into Turn 1 and losing quite a lot of positions to the cars around the outside."
At the end of the day, Sainz crossed the checkered flag P7, three positions and some 20 seconds behind Scuderia teammate Charles Leclerc who had outqualified the Spaniard by 0.110s in Saturday's shootout.
Sainz said a "combination of factors" had allowed Leclerc to secure a good result on Sunday, admitting that his side of the garage still needs "to put the whole weekend together" to emulate his teammate.
"It's a combination of factors to get that perfect result like Charles did today," said Sainz.
"You need to first of all put the weekend completely together, and it comes down to a good qualifying, to make the lap in Q3 – if I would have nailed it [this weekend], I would have started further ahead and it wouldn't have been an issue. And then nailing the start.
"This is what I was particularly good at at McLaren, putting the whole weekend together, and this is what I need to keep on improving as the races go on with this team, to try and be performing at the highest possible level."
Gallery: The beautiful wives and girlfriends of F1 drivers
Keep up to date with all the F1 news via Facebook and Twitter