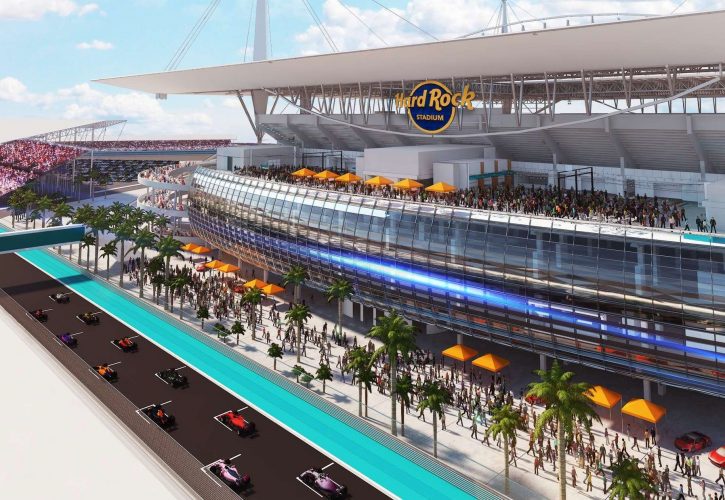 Miami looks set to make its inaugural appearance on the Formula 1 calendar next May, according to the sport's CEO Stefano Domenicali.
F1 organisers have been woking on plans for a second Grand Prix in the United States for a number of years, with New York City formerly among the potential venues to join the Circuit of the Americas on the schedule.
Plans to race in Florida have met a series of obstacles and delays, but the necessary permissions have now been granted meaning that F1 cars should finally be racing in Miami next season.
"We can confirm that the much-anticipated Miami Grand Prix will happen in the first half of May," Domenicali told investors in a conference call on Friday. "Demand for tickets is high, even though sales have not officially started.
"I see a lot of enthusiasm already with fans in Miami," he continued. "The tickets are almost sold out. The level of attention is there."
He said that plans for next year's championship as a whole were already well advanced.
"We are less than halfway through 2021, but planning for 2022 has been ongoing for some time," he confirmed. "We hope to announce the provisional calendar in September/October.
"We have an incredible opportunity to develop new markets," he said recently during a Business Breakdowns podcast. "Next year we will be in Miami. The United States of America represents one big challenge for us that we need to make sure we take in a good way."
With Australia currently still out of commission in the wake of the coronavirus pandemic, the season is likely to start once again in Bahrain in mid-March.
It also seems likely that Saudi Arabia will be the second race of 2022, after the race makes its first appearance on the itinerary this December meaning there will be two races within four months in Jeddah.
Australia is then hoping to be back on the schedule in April subject to COVID travel restrictions affecting entry into the country.
The month of May has typically been shared by Spain and Monaco. While the iconic latter event is already confirmed for May 29, it's unclear what other races will join Miami on the 2022 itinerary.
It would almost certainly be too early to combine a trip to the US with a visit further north, with the Canadian Grand Prix in Montreal usually not taking place until June because of cold weather earlier in the year.
Even as it turns its attention to next year's calendar, F1 still has a number of headaches to resolve about the current season.
Japan and Brazil are believed to be at risk because of the high rate of coronavirus within the two countries. Mexico has also just been placed on the UK's 'red list' of countries requiring lengthy periods of quarantine upon return.
Among the contingency plans set up by F1 management are a second race at COTA, a double-header in Saudi Arabia, and a return to the outer loop circuit at Sakhir.
A revived Chinese Grand Prix had also been considered a possibility, but new outbreaks of the delta variant in recent weeks in Wuhan have made that less likely.
Gallery: The beautiful wives and girlfriends of F1 drivers
Keep up to date with all the F1 news via Facebook and Twitter