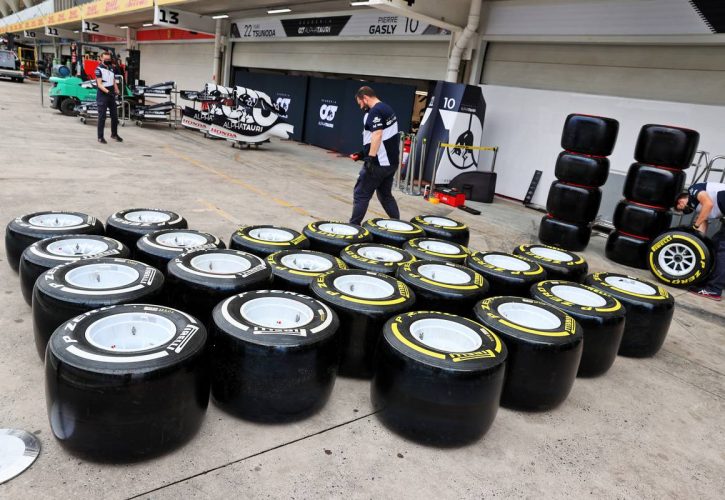 Pirelli has chosen the three hardest tyre compounds in its range for this week's inaugural Qatar Grand Prix at Losail.
The Italian tyre manufacturer says its existing data and simulations point to Losail being a high-severity circuit with very demanding corners – similar to Silverstone or Mugello – and quite aggressive asphalt, hence its hard rubber choice.
Pirelli warns that grip levels at the Losail International Circuit could be impacted by the sand from the desert surrounding the track. But with no support races on the weekend's programme, the track will also likely take time to 'rubber in' for drivers.
Furthermore, as one of four races held under the floodlights this year, the track temperature evolution between sessions and in the race itself on Sunday should be quite different to standard races.
Losail's 5.38 km layout features 16 corners and a main straight just over a kilometre long.
"Qatar will provide a thrilling new challenge at a unique venue with its own special character, so we're very much looking forward to our first visit," commented Pirelli F1 boss Mario Isola.
"Coming to a new circuit isn't a novel experience for us though, and we rely on simulation data as well as track information that we collect in advance to select the nomination that will be used.
"We haven't had the chance to measure the roughness of the asphalt with our instruments but the promoter provided us with very useful information on the asphalt characteristics.
"From what we can see, the hardest tyres in the range will be well-suited to Losail, due to the quite abrasive asphalt and the very demanding corners.
"But as we've never actually raced there before, we'll only get a true picture of how the tyres really work on this circuit once we arrive."
While teams have never run at Losail, Red Bull's Sergio Perez and Nikita Mazepin are the only drivers in the field who are familiar with the venue, with the Red Bull driver winning in Qatar in 2009 a round of the GP2 Asia series, while the Russian once raced at Losail in a round of the MRF Challenge.
Gallery: The beautiful wives and girlfriends of F1 drivers
Keep up to date with all the F1 news via Facebook and Twitter