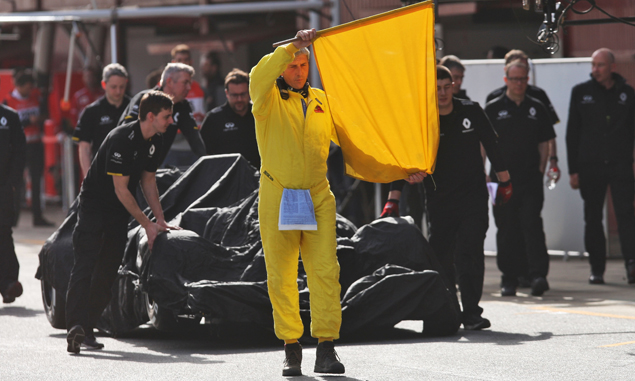 Jolyon Palmer is confident Renault will be able to recover from a frustrating start to F1 pre-season testing in Barcelona over the next two days.
Having been hampered by a software problem on the opening day that limited his running to only 37 laps, Palmer saw his Tuesday session being cut short by a power unit issue in the early afternoon.
The British rookie insists he has been able to learn valuable things despite the setbacks, but admits it would be "a really terrible start" if team-mate Kevin Magnussen can not secure more mileage over the remainder of the first pre-season test.
"There are positives from [Tuesday] as at least we had the car running to do baseline set-up work and get an understanding for it after yesterday was a bigger disaster I think," Palmer said.
"It was problem-solving mode fully yesterday and today we were getting through what we wanted to achieve quite well and we didn't have any issues but then suddenly we had a big one."
"At least we did some more relevant laps but 79 laps is not ideal for half my pre-season testing so I need a lot more next week."
With this year's pre-season being slashed to only eight days compared in 2015, Palmer only has two more days of testing scheduled before he makes his grand prix debut in Australia next month.
The 25-year-old says he expected Renault to run into some teething troubles upon its return as a works outfit but still rues the fact that he could not spend more time on track.
"I came to this test hoping to do 100 laps a day but I know the first day can be difficult. Day one's difficulties didn't help for today's running so 79 in two days is far too little but that is how it is.
"With the change of power unit and effectively a new team these problems are bound to happen it is just a shame it has come so early on the second day.
"I will be hanging around [on Wednesday] to watch Kevin then head back on Thursday for simulator work until next week, so hopefully I'll be watching a lot of laps [on Wednesday]."
Magnussen will be behind the wheel of the Renault R.S.16 on the final two days of the opening Barcelona test. That will be the Dane's first F1 outing since he last raced with McLaren at the 2015 Australian Grand Prix.
Vettel quickest on day two as McLaren completes 119 laps
GALLERY: Barcelona testing - Day 2
Keep up to date with all the F1 news via Facebook and Twitter