Nicholas Latifi apologized to his Williams team for his crash in the closing stages of the Abu Dhabi Grand Prix and also for the unintended consequences it entailed for the championship fight between Max Verstappen and Lewis Hamilton.
Latifi was battling Haas' Mick Schumacher at the tail end of the field on lap 50 of the race when he lost control of his Williams at Yas Marina's Turn 14 and clouted the barrier.
The position of the damaged Williams left no other choice for race control than to send out the Safety Car to ensure car's safe evacuation and a cleanup of the debris on the track.
However, the incident sent in motion a series of events that led to a final one-lap showdown on lap 57 between F1's two title contenders.
The man to whom Red Bull team boss Christian Horner has promised a life-long supply of the energy drink explained how his tussle with Schumacher ended in the barriers.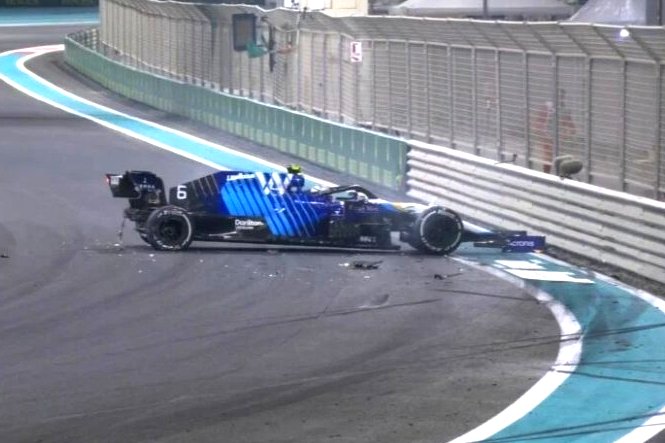 "I went off the track when we were side-by-side," Latifi said. "I mean, he kind of forced me off, but I guess it's fair racing. Nothing too untoward there.
"But when I went off, the tyres were really, really dirty, and obviously that was a really tricky area for us to follow."
Latifi's first thoughts regarding his mistake were with for his team, but the extraordinary repercussions of his crash on the title battle obviously weren't lost on the Canadian.
"It was absolutely not how I intended to end the season," he said. "So apologies to the team for that.
"I wasn't aware of the situation of the race up until then. Obviously, it was never my intention to inadvertently influence that, but I made a mistake and ruined my own race.
"I can only apologise for influencing and creating an opportunity. But again, I made a mistake."
Reverting to his own fortunes, Latifi believed there were positives to take away from his 2021 campaign, his second with Williams, despite Sunday's bitter pill.
"Plenty of positives, but this definitely leaves a sour taste in the mouth," he admitted.
"It's not what I was hoping for at all, so just very disappointed."
Keep up to date with all the F1 news via Facebook and Twitter