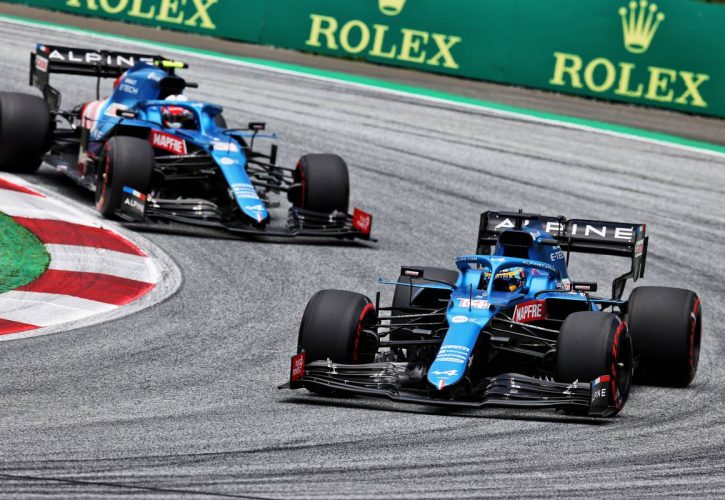 Alpine executive director Marcin Budkowski says the French outfit has entered its "most important winter" since Renault's comeback to F1 as a works team in 2016.
Alpine fulfilled this season its objective of finishing among the top-five in F1's Constructors' championship, and even went beyond its ambitions by winning a race, the Hungarian Grand Prix, courtesy of Esteban Ocon.
But the coming six weeks will be crucial for Alpine's future, with its crews putting the finishing touches to its all-new 2022 contender and management changes anticipated at Enstone on the back of CEO Laurent Rossi's comments last month.
The Frenchman aims to see Alpine continue to grow and move up the running order and not remain stranded in the thick of F1's midfield.
"It's not in line with what we want," said Rossi back in November, in an interview with Motorsport.com.
"I clearly want the team to contend for podiums and win by the end of the next regulation, that is to say 2024/25, depending on where they decide to switch to the new regulation package.
"But to do so, we'll need to evolve the team a little bit. To move to the next stage and become the best of the top teams rather than just the best of the rest, it's another evolution that is needed."
There have been rumors that long-standing Aston Martin team boss Otmar Szafnauer is set to move to Alpine and take over the role of team principal currently filled by Davide Brivio, gossip that Szafnauer has since denied.
But Budkowski, whose current position as executive director could also be under review, wants Alpine to focus on the job at hand this winter rather than on the whirlwind of speculation regarding its management structure.
"There is a lot going on for next year and it is probably the most important winter for this team since Renault came back," said Budkowski.
"It is the first car we are designing under the cost cap. We are not at the cap, we are below – so it is actually not impacting us but it is impacting our competitors.
"In relative terms it gives us a better platform and a better position. And a reset of some areas of the team that are working a lot better, and I am excited to see what they are going to do.
"So I think at this stage this should be the focus in the team.
"As part of the top management in the team, my role is to protect the team from rumours.
"Really what I want people to talk about at the coffee machine is how to make the car go quicker, not who is doing what or what the management structure would look like."
Alpine will head into 2022 with an unchanged line-up, with Ocon on a long-term deal with the French outfit and Fernando Alonso committed to another year with the team.
Furthermore, Alpine recently confirmed FIA Formula 2 Champion Oscar Piastri as its official reserve driver for next season, with the talented Aussie – who hopes to join the F1 gird in 2023 - imbedding with the team on race weekends in 2022 and conducting simulator work at Enstone.
Keep up to date with all the F1 news via Facebook and Twitter