Alpine's Fernando Alonso says he's "sad" to see Honda leave Formula 1, but the Spaniard hopes the Japanese manufacturer will return to the grid at some point in the future.
Alonso worked with Honda during his second career stint in F1 with McLaren from 2015 to 2017, just as the engine supplier began its partnership with the Woking-based outfit.
Unfortunately, the alliance proved disastrous, with a string of power and reliability issues persistently leaving McLaren and its star driver as mere also rans.
At the time, Alonso never held back and made some excoriating public criticisms of Honda, mocking its power unit which he infamously called a "GP2 engine".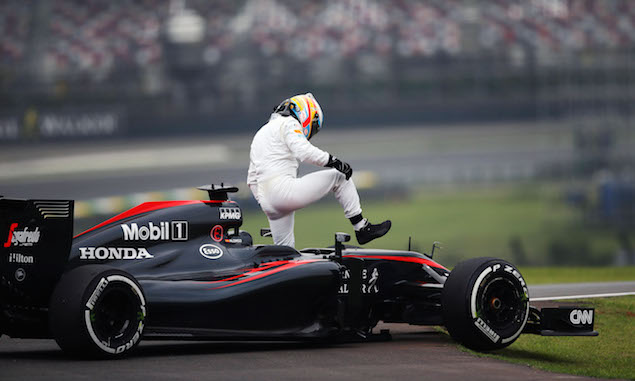 McLaren ended up buying itself out of the contract with the engine provider and switching to Renault in 2018, making immediate gains.
"Obviously, when they left McLaren, I think they were not in a point of dreaming of the Formula 1 championship," Alonso said. "But they did a very good job, they appointed the right people.
"I think they changed the management, and they introduced a new philosophy and they did the job, and I'm so happy for them. And I'm sad that they are leaving now. But hopefully they come back."
Alonso said that despite those lean years when he was powered by Honda, he retains a good relationship with motorsport boss Masashi Yamamoto whom he wholeheartedly congratulated in the wake of Max Verstappen's coronation at Yas Marina last month.
"I was speaking with Yamamoto-san, all these 3-4 last grands prix, because I have a very good connection with him," said the Spaniard.
"He was the guy that allowed me to test the MotoGP, etc, and we are still in a very good relationship. And he was the first guy that I congratulated after Max in parc ferme, so I'm happy for them."
Gallery: The beautiful wives and girlfriends of F1 drivers
Keep up to date with all the F1 news via Facebook and Twitter