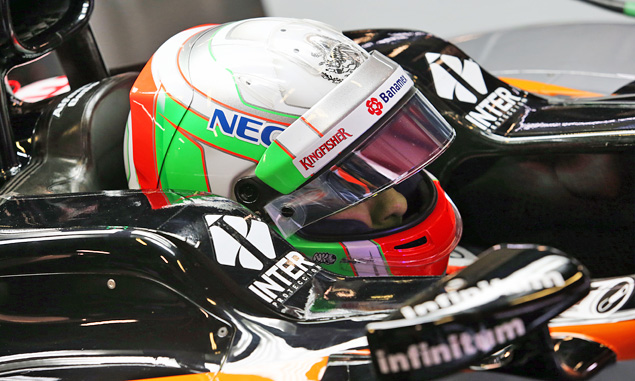 Alfonso Celis Jr. was handed the honour of being the first driver behind the wheel of the VJM09 in last week's pre-season test in Barcelona, and had nothing but praise for the work done by the Force India squad.
"It has been an amazing opportunity, an amazing week in general," said Force India's 19-year-old development driver, who impressed the team by notching up a total of 58 laps and setting a highly impressive fifth fastest time on soft tyres in the afternoon.
Celis returned on Thursday and wrapped up the first pre-season test in Barcelona with the third quickest time and 75 more laps under his belt.
"I am really pleased overall with the performance with the runs and the plans that we have accomplished, with the reliability on the car," he said. "I think we have developed the car a lot so we are really pleased."
Even so, the Mexican driver was quick to admit just how much more work lay ahead before the car lined up on the grid in Melbourne for the first round of the 2016 Formula One season.
"There are a lot of things to improve. There is always room for improvement but I think we are on the right path. We achieved we had planned, so it is just about working in the direction and we should be improve.
"As a driver it is just my third time in the car so there are many ways. I am positive and I am really focused to develop myself so there are millions of ways to improve myself. I am really looking forward to that.
"I am still learning step by step and it has been an amazing opportunity to drive the two days. For me as a rookie driver it is a big plus. We are in the right direction as a team and to develop myself."
Celis will combine his Formula One commitments with a second Formula V8 3.5 campaign in 2016. He is expected take part in seven Friday practice sessions for Force India over the course of the season.
FEATURE: The first test in numbers
Keep up to date with all the F1 news via Facebook and Twitter