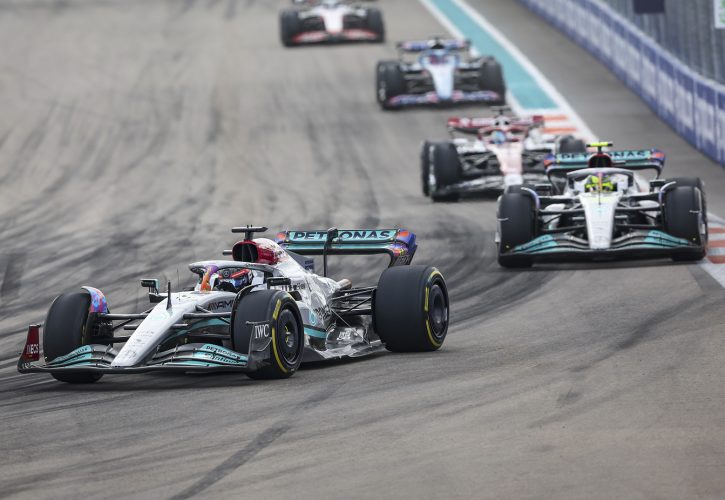 Lewis Hamilton says circumstances and teammate George Russell's offset strategy in the Miami GP left him "a sitting duck" in the Mercedes pair's late on-track battle.
The Brackley squad had hedged its bets in the race, with Hamilton running a medium-to-hard tyre strategy from sixth on the grid while Russell started P12 and opted for a long first stint on the hard compound.
However, a Safety Car triggered by the crash between Pierre Gasly and Lando Norris 16 laps from the checkered flag proved timely for Russell who took the free pitstop and emerged behind his teammate but on much fresher medium rubber.
The outcome of the scrap between the two Mercedes drivers inevitably favoured Russell.
"George obviously did a great job in that first stint," Hamilton said after the race.
"He was on the better tyre to start with. "The hard was the best tyre, so in hindsigh, maybe we could have started on the hard tyre but again, he did a great job to recover from his position and get the points.
"So we've got fifth and sixth today, it's great points for the team. George did a great job, it was fair, he had fresh tyres, so I was a bit of a sitting duck."
During the Safety Car period, Hamilton was asked by his team to make a call on whether he wanted to make a second tyre stop that would have left him, like Russell, on a fresher set of tyres.
But the seven-time world champion sent the ball back into his team's court, with strategist James Vowles ultimately advising him to stay out.
Hamilton explained why he couldn't make the call which he equated to a "gamble".
"When you're out there, you don't have all the information," he explained. "You don't know where everyone is and where you'll come out. You don't have the picture that they have on the screen.
"So when you're given the responsibility to make the decision, it feels like you're gambling and I don't like that.
"So I was like, 'you guys make the decision'. But either way, we were just a bit unfortunate with the Safety Car today."
Keep up to date with all the F1 news via Facebook and Twitter