Aston Martin chief technical officer Andy Green says his team is baffled by Red Bull's suspicions and suggestions that Aston's latest upgrade package had been conceived on data or IP leaked from the Milton Keynes-based outfit.
The similarities between the new sidepod design introduced this weekend in Spain by Aston Martin and the original elements featured on Red Bull's RB18 warranted an investigation by the FIA.
But the governing body cleared Team Silverstone of any wrongdoing, insisting there was no indication that the new components on Aston's AMR22 had been in any way copied from Red Bull.
But the latter's chiefs aren't satisfied with the FIA's conclusion. Red Bull motorsport boss has hinted that personnel previously employed by the team and now working at Aston Martin could downloaded data and intellectual property that was then transferred to their new employer.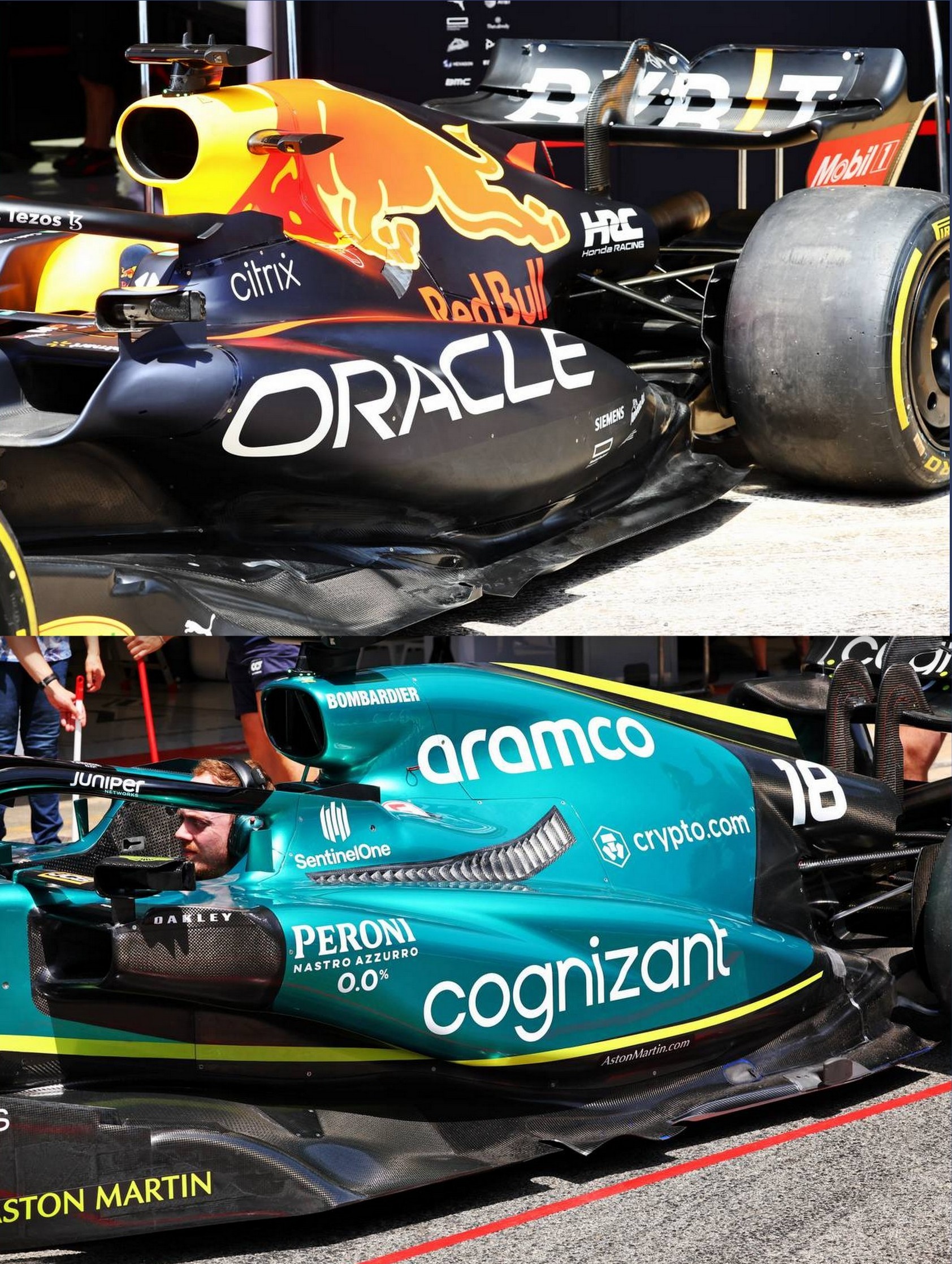 Red Bull team boss Christian Horner says an internal forensic investigation is underway to determine of there has been a data breach or IP leaks at Milton Keynes.
But Green is mystified by Red Bull's suspicions.
"I don't know what these accusations are that Red Bull are thinking about," Green told the media in Barcelona.
"All I can say is that at no stage did we receive any data from any team, from anyone.
"The FIA came in and did a thorough investigation and examined all the data leading up in the history of this car.
"They interviewed all the people involved and concluded that it was a completely independent development."
Green certifies that the upgrade package implemented this weekend was designed at a time when now Red Bull engineers – such as aerodynamicist Dan Fallows – had yet joined Aston Martin.
"This car was conceived in the middle of last year, as a dual-route with the launch car," Green added.
"The majority of the releases were made before anybody from Red Bull even turned up, so I think the accusations are very wide of the mark.
"I am disappointed, especially with the fact that the FIA has made a statement with respect to the car and, as I said before, they've come in and they've looked and declared that it's legitimate, independent work."
The latest saga involving Aston is a throwback to the controversy that surrounded the team's 2020 car which was rightly dubbed a "Pink Mercedes" as the car – racing under the Racing Point banner – had been almost entirely copied, and indeed illegally regarding certain components, on Mercedes' title winning 2019 W10.
Interestingly, as Green addressed a controversy that may well be in its beginning, he revealed how he had been shocked to see Red Bull roll out its 2022 car earlier this year sporting a sidepod and engine cover design that bore a close resemblance to an aero option designed by Aston for its own car.
"It came as a shock but also a surprise that the Red Bull came out with a similar concept as well," said the Aston CTO.
"I think that just reinforced our feeling at the time that, of the two paths we had open to us, we'd gone the wrong way – that was confirmation of that."
Green isn't expecting the current controversy to linger, but insisted that if it does, the FIA is more than welcome to further investigate Aston's design work.
"We expect this to be the end, but if the FIA wanted to come back in again and do further investigations, we're more than happy for them to do so," he said.
"We've been completely open and honest with them through the whole process. We've given them every access that they've requested.
"If they want to come back and do some more [checks], I'm more than happy for that to happen."
Keep up to date with all the F1 news via Facebook and Twitter