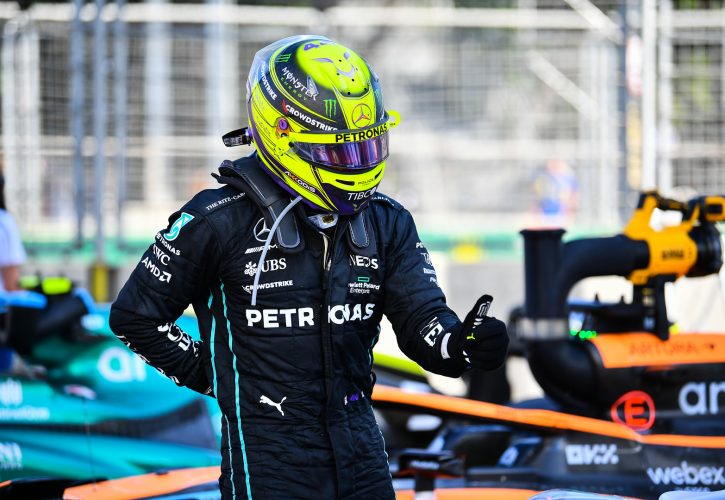 Lewis Hamilton woke up feeling bruised and battered a day after his suffering Azerbaijan Grand Prix, but the Mercedes driver reassured his fans that he will be in action next weekend in Montreal.
Hamilton crossed the checkered flag in Baku on Sunday fourth but in considerable agony, hit by acute pain in his back due to his Mercedes car's bouncing and bottoming around Baku's bumpy track.
The seven-time world champion appeared so afflicted that Mercedes team boss Toto Wolff suggested that the Brackley squad would perhaps need to call up one of its reserve drivers for this week's Canadian Grand Prix if Hamilton wasn't able to drive.
The Briton admitted after the race that his afternoon had been an ordeal and somewhat of a "strange experience", saying that there had been "a lot of moments where I didn't know if I was going to make it" due to the tormenting back pain.
"Just whether I was going to keep the car on track, because I don't know if you saw it, I nearly lost it in the high speed several times," he said. "So the battle with the car was intense.
"There were so many times I was nearly going into the wall. So that was a concern, safety-wise at 180 miles an hour, smashing into the wall, I don't think I've really ever had to think about that too much as a racing driver.
"You don't really ever think about keeping it out of the wall at that high speed. A very, very, very strange experience."
"And then at the end, the last 10 laps to the flag, I was just having to go internal, like 'You can do this, you've got this. Just bear with it.'"
On Monday, Hamilton took to social media to give his fans an update n his physical condition.
"Yesterday was tough and had some troubles sleeping but have woke up feeling positive today!" he said.
"Back is a little sore and bruised but nothing serious thankfully. I've had acupuncture and physio with Ang an am on the way to my team to work with them on improving.
"We have to keep fighting. No time like the present to pull together and we will.
"I'll be there this weekend, wouldn't miss it for the world. Wishing everybody an amazing day and week," concluded the Mercedes charger.
Keep up to date with all the F1 news via Facebook and Twitter