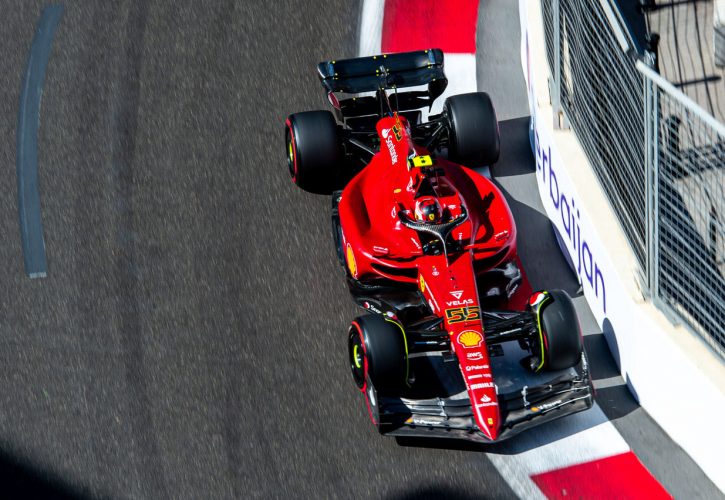 Ferrari says it has a "short-term fix in place" for the hydraulic issue that sidelined Carlos Sainz in Baku while Charles Leclerc's engine failure has yet to be assessed.
The Scuderia endured a dismal Sunday in Azerbaijan with both its drivers' promising prospects vanishing in the first part of the race.
Sainz was forced to park his F1-75 after just 8 laps while he was running fourth while Leclerc, who had started from pole and leading proceedings, was hit with a power unit failure on lap 21 of 51.
With only a few days to investigate their issues before next weekend's Canadian Grand Prix, Ferrari has opted for an interim solution for Sainz.
"Hydraulic components from Carlos' car have already been examined," the Scuderia stated on social media on Tuesday.
"A short-term fix is in place for Canada, while work is on-going on mid/long-term solutions."
A forensic analysis of Leclerc's power unit required more time as the engine only arrived in Maranello from Baku on Wednesday.
"Charles' engine arrives at the factory tomorrow [on Wednesday], an initial assessment should be completed by the evening," Ferrari wrote.
"We continue to be fully motivated. Our ambitions are still high, our aim hasn't changed. These moments shape us, as individuals and as a group," the Italian outfit later added.
So far, Leclerc has relied on two Internal Combustion Engines since the start of the season, and adding a third unit to the Monegasque's pool of hardware – or reaching the maximum amount of authorized ICEs for 2022 - would put the Scuderia charger on the fringe of a engine penalty and grid drop in F1's upcoming races.
Keep up to date with all the F1 news via Facebook and Twitter