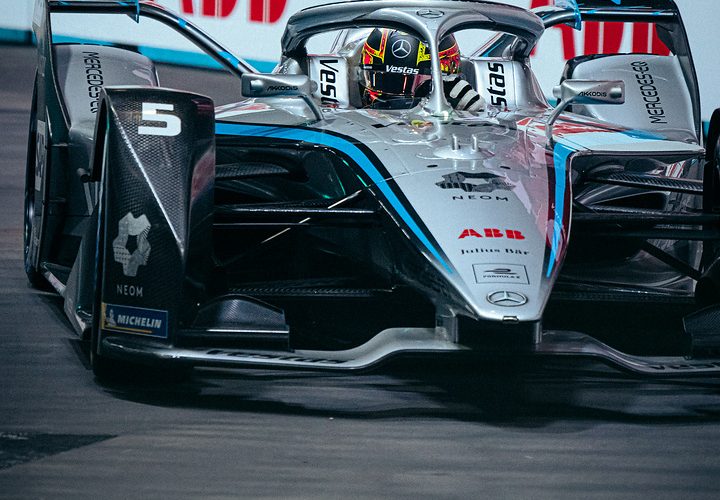 It's been seven years since Stoffel Vandoorne was last in a position to clinch a championship, when he took the crown in the GP2 Series that led to his promotion to Formula 1 with McLaren.
The Belgian racer went on to make 41 starts with the team alongside Fernando Alonso, but he never finished higher than seventh place and was in the points on only eight occasions before the team opted for an all-new line-up in 2019.
Vandoorne subsequently headed to Formula E with the team that became Mercedes-EQ. He was runner-up in 2019, while the squad won last year's title with team mate Nyck de Vries claiming the drivers crown.
Now it's Vandoorne's turn, as he goes into the final weekend of the season - a double-header in Seoul - with a 36 point lead over nearest rival Mitch Evans, and a chance at long last for renewed championship glory.
That's in large part to his consistency over the season. He's one of only four drivers yet to register a DNF, and has finished on the podium in half of the races.
"It's just a race like any other," he insisted in a team press release ahead of the weekend. "I don't want to change what I have been doing since the start of the year.
"Sure it's the last race weekend of the season, so maybe it's a bit more important in terms of deciding the championship, but that doesn't change my mindset or my approach.
"I think it even represents an opportunity for us: it's a new track with new conditions, and as a team, we do quite well in preparing for those kinds of events. Hopefully we can capitalise on that ability this time as well."
While it would be easy to paint this as 'redemption' after the dark days of his McLaren incumbency, Vandoorne himself insists that he never doubted his ability to win races and titles even at the worst of times at Woking.
"I'm still the same guy, just a couple of years older," the 30-year-old old GiveMeSport this week. "F1 was a different environment and a pretty tough time at the time but I was still confident in my abilities and my own talent and what I could do in a racing car.
"From the moment I joined Formula E I kind of knew that in the right conditions I should be able to fight for victories and for championships," he added.
"The first year was a bit hard as a new team coming in, there were so many things to learn, but we had a couple of podiums and some pole positions.
"I would say that first year was still quite good in some sense. I never doubted anything let's say."
Ironically this will be the last weekend in Formula E for Mercedes and looks set to finish with a second consecutive team championship. The squad has been sold as a going concern to McLaren while Vandoorne is expected to move to DS Penske.
"We are about to hit the track for the very last time as the Mercedes-EQ Formula E Team this weekend," said team principal Ian James. "After three incredible seasons in Formula E, Mercedes-EQ will leave the series.
"Over the past years, we've been building a team capable of delivering the best results, and so far this season the team has proven itself worthy.
"That being said, we approach this race weekend as every other race weekend - with a good dose of humility and determination," he stated. "We want to end the season and this journey on a high.
"We've put ourselves in a great position to do so," he added, with the team itself also holding a 36 point lead over their closest challengers, ROKiT Venturi Racing.
The first of this weekend's E-Prix races will take place on Saturday at 4pm local time (8am BST) with the season finale at the same time on Sunday.
Gallery: The beautiful wives and girlfriends of F1 drivers
Keep up to date with all the F1 news via Facebook and Twitter