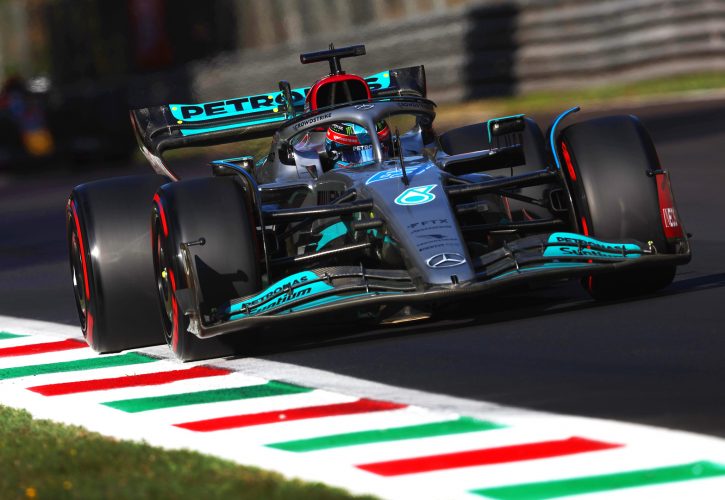 George Russell says there are no upcoming 'stand-out' tracks where Mercedes could snatch its first win of the season, but the Briton nevertheless feels that Austin could offer the Brackley squad its best chance of success.
F1 teams will begin their final stretch of 2022 this week in Singapore, with six rounds remaining on the calendar.
Unfortunately, this year's difficult campaign, marked by Mercedes' struggles to get on top of the aerodynamic issues that have impacted its 2022 car, has left the reigning world champions still chasing after their first win, a first since 2011, the team's last winless season in F1.
Looking ahead at F1's travels from Asia to the American continent and then on to Brazil and finally Abu Dhabi, Russell pondered where his team could eventually prevail.
"Not too sure," he said. "There's no stand-outs that really spring to mind.
"Singapore could be interesting, but historically it's a circuit where Mercedes have struggled a little bit, and we know at street circuits this year we haven't fared so well.
"I'd probably say maybe Austin; I think Austin could be a circuit that suits us better – but I truly don't know."
Next month's US Grand Prix will mark ten years since F1 raced for the first at The Circuit of the Americas.
Since, the event held on the outskirts of the vibrant city of Austin has become one of the most popular races on F1's agenda.
Beyond his timid prediction, Russell prefers to underscore the progress achieved by Mercedes over the summer, and the gains that remained to be unlocked.
"I think as a team we're making a huge amount of progress at the moment and [we're] understanding the car more and more," he said.
"Hopefully as we develop the car further, we can take some further gains."
Keep up to date with all the F1 news via Facebook and Twitter