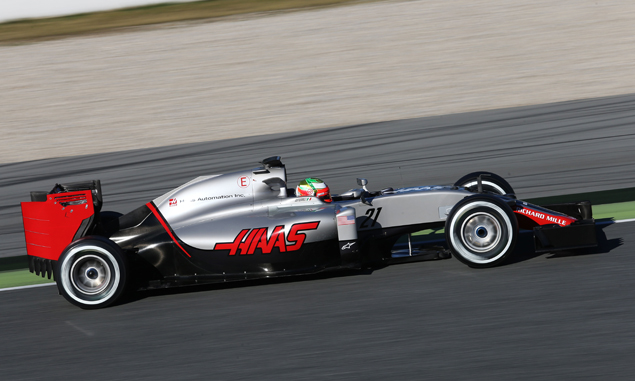 Esteban Gutierrez thinks Haas' challenging second F1 test in Barcelona represented the "best practice" for the American team ahead of its first grand prix.
Having enjoyed a smooth debut during the opening group session, Haas experienced a series of issues – from a fuel system problem to concerns over the turbo and brake-by-wire – that hampered its progress this week.
Returning to a full-time F1 role in 2016, Gutierrez was especially penalised since he could only complete 24 laps across the first two days in the VF-16. Thus, the team decided to give the Mexican more mileage on the final afternoon.
"After all what we have experienced I think it was the best practice we could have had because we had a reasonably easy week the first one and then on the second one it was quite frustrating and complicated for everybody but the team managed to react quickly," Gutierrez said.
"We managed to solve the issues that we had, live through all the very frustrating moments all together and I think this is good as a start for a new team. We found a good direction [on the final day]. It was not ideal to go out on the very last part of the day. But in general I feel we have done our best to prepare and now we're going back to racing."
Despite the issues, he and team-mate Romain Grosjean combined for 91 laps on Friday, the highest single-day lap count for the team this winter. If the Frenchman was full of praise for Haas' quick turnaround in the face of adversity, Gutierrez even confessed he did not expect the US newcomers to react so efficiently when placed under duress.
"I have been quite surprised, also by the level of professionalism in the team, the attitude, and the efforts from the mechanics, from the engineers, from everyone who has been involved in this five- or six-week journey, which was really tough for everybody. You can see all the faces are very tired.
"It shows the approach and the passion that we share together. As an experience, we have to take this as a new team; this is part of building a new team. This has been a different and really good experience to live."
FULL REPORT: Vettel ensures Ferrari ends testing on top
Keep up to date with all the F1 news via Facebook and Twitter