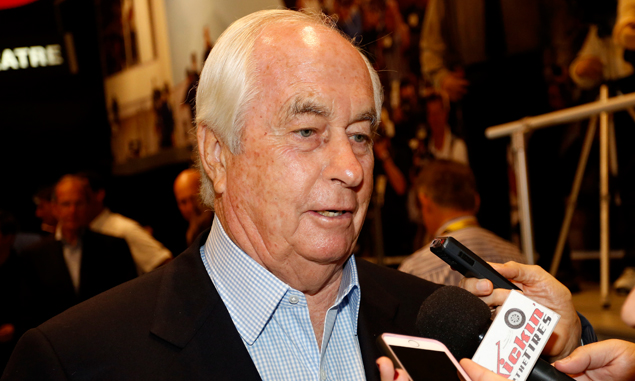 Legendary US racing team owner Roger Penske says he is "anxious" to see how the new Haas F1 Team fares in his debut Formula One season.
Gene Haas' eponymous outfit is the first American team to enter the sport since the Carl Haas-founded Team Haas – often referred to as Haas Lola – folded in 1986. One needs to go back another ten years to find Team Penske's sole F1 win, which came courtesy of John Watson at the 1976 Austrian Grand Prix.
A household name in America, Penske has overseen 13 IndyCar titles, 16 Indy 500 wins, and one NASCAR championship. His venture into F1 only lasted three seasons but that proved to be enough to leave its mark on the series with Watson claiming another two podiums in '76.
"I talked to Gene, he's invited to me to come," Penske is quoted as saying by Motorsport.com at the Grand Prix of St Petersburg, where his IndyCar team secured a 1-2 finish with Juan Pablo Montoya leading home Simon Pagenaud.
"I said 'look, I don't know if I can even get a pit pass there' and he said 'I'll get you one'. I'm anxious to see how they do. I don't know how, with the economics, and you hear the kind of investment – $300m to go to F1, I guess it's the ticket you have to have.
"I guess we're the last American team to win a Formula One race*. It's a shame we didn't stay in longer but it was impossible to be in F1, Can-Am, Trans-Am – we just couldn't do it. I was flying back and forth all the time. Business drove us to the US."
*Editor's note: though 'The Captain' is technically correct, Alan Jones won the 1977 Austrian Grand Prix with the US team Shadow one year after Watson's success for Penske. But the Don Nichols-founded outfit was then running under a British licence. 
2016 F1 season: Chris Medland's Team-by-team preview
TECHNICAL: A closer look at the Haas VF-16
F1i Classic: Melbourne 2002 - Mark Webber's dream debut
Keep up to date with all the F1 news via Facebook and Twitter