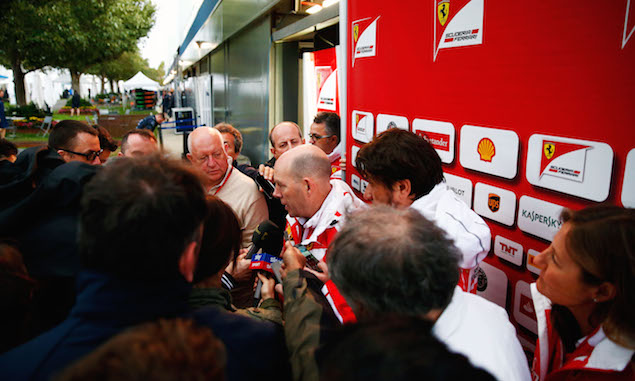 New Ferrari recruit Jock Clear has been left "hugely impressed" after arriving at the team from Mercedes.
As is often the norm in the high-stakes world of Formula 1, Clear had to complete a long period of gardening leave before being allowed to move from Mercedes to Maranello, finally making his first public appearance at the Pirelli wet tyre test in January.
Switching between teams, Clear - who has taken on a senior engineering role - admits he needed to understand the different culture at the Scuderia but has been pleasantly surprised by the set-up in place.
"Obviously learning how the team operates was a huge part of the last three months getting here," Clear said. "But actually I have inherited a team in a very good position. Yes we know we can always improve, that is the sport: we are always looking to improve.
"I am hugely impressed with the race team I have inherited. James Allison has done a hell of a job at getting the guys motivated and getting them positive. There is a lot of positivity in the team, so that is not taking too much of my stress."
Clear's arrival comes at a time of last-minute changes in regulations - including qualifying - but he says Ferrari was already well structured to deal with such a scenario.
"The regulations and the tyre changes: we have had to do a lot of thinking about that but again this is a team that wasn't hanging around waiting for me to arrive. They were already on the case and they were well ahead of the game in terms of how we deal with the changes in regulations.
"We have tools in place to give ourselves the best information at all times, and now we started racing we will see whether we are up to the challenge. I am sure we have done our homework and I am sure the others have done their homework. We will see."
REPORT: Hamilton fastest as Rosberg crashes in FP2
Australian Grand Prix - Friday free practice as it happened
2016 F1 season: Team-by-team preview
Keep up to date with all the F1 news via Facebook and Twitter