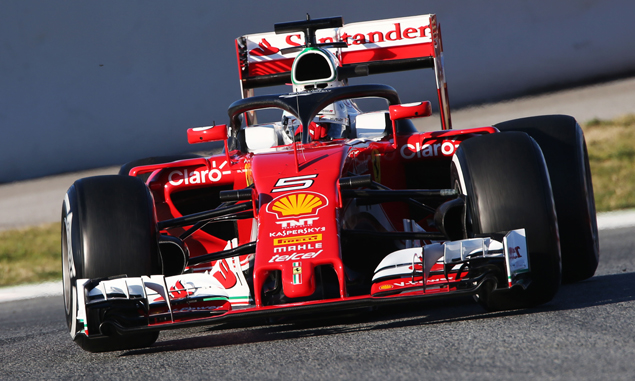 FIA race director Charlie Whiting says the recently-trialled Halo cockpit system is still on schedule to be introduced ahead of the 2017 Formula One season.
Although Mercedes initially devised the Halo concept, it was Ferrari that created a stir in winter testing when the Italian team fitted the device on Kimi Raikkonen and Sebastian Vettel's SF16-Hs.
The sport's governing body has been looking to enhance driver head protection for several years, with the deaths of Jules Bianchi and Justin Wilson making the matter all the more urgent. Asked on the state of the project and how far advanced the FIA was to have it ready for next year, Whiting replied:
"I think it's going pretty well. Obviously you know that we've tested the so-called Halo. It's been tested quite extensively now, and I think it will offer very good protection for a flying wheel, for example. That's the main way in which it's been tested so far.
"We need to do a thorough risk assessment on it, and we need to look at a number of related things like extrication; we've got to talk to the medical crews about it. I think it's going quite well. We've got a separate working group just to deal with that by Mercedes and Ferrari, and I would say they're doing a really good job on that."
The Halo is not the only head protection system brought forward amid the fresh safety push: Red Bull is reportedly working on its own design and has gone for a canopy layout.
However, Whiting doubts the four-time Constructors' champions' concept will be finalised and validated by 2017, and adds that the FIA is unlikely to delay the introduction of the Halo even if a better system surfaces by next season.
"The Red Bull [concept] is an alternative to [the Halo]. It's considerably further behind in development, it's never been tested, but it could offer additional protection. I've got my doubts as to whether it could actually be implemented for 2017, whereas I think the Halo could.
"I don't think we would delay if another one was emerging. We are on a course for the Halo as that has been tested thoroughly and we feel that it offers the best all-round protection. We do have a thorough risk assessment to on a number of different accident scenarios.
"We want to make sure we are not going to make things worse in certain circumstances, so that has to be done. But I don't think we would delay it because we felt there was another better one coming."
The Halo has already sparked a lot of reactions from the drivers, with Lewis Hamilton calling it "the worst mod in Formula 1 history" while Sebastian Vettel said that saving lives is more important than any concerns about the look of an F1 car.
REPORT: Hamilton fastest as Rosberg crashes in FP2
Australian Grand Prix - Friday free practice as it happened
2016 F1 season: Team-by-team preview
Keep up to date with all the F1 news via Facebook and Twitter