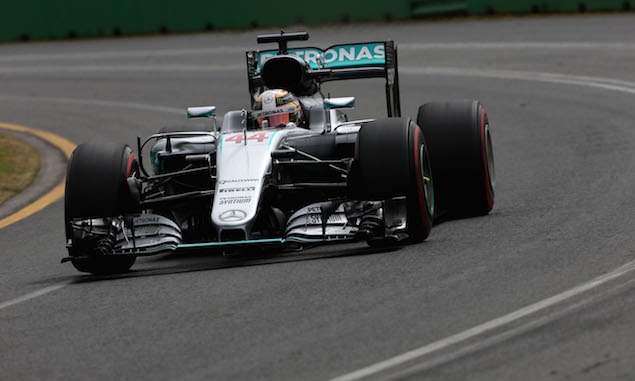 Lewis Hamilton took pole position for the Australian Grand Prix as the new elimination qualifying format let to confusion and a farcical end.
The session was decided nearly five minutes before the end of Q3 as the elimination format limited who could improve. With both Ferraris deciding not to go back out after their first laps in the final part of qualifying, Hamilton set a 1:28.837 to beat team-mate Nico Rosberg by nearly 0.4s and end the session.
Sebastian Vettel will start from third and Kimi Raikkonen fourth, but Ferrari could not mount a serious challenge to Mercedes as Vettel ended up 0.8s adrift of Hamilton. An error from Rosberg on his first run had left him in fourth place initially, but Ferrari obviously knew Mercedes had more in hand and opted to save tyres.
Max Verstappen will start from fifth ahead of Felipe Massa, Carlos Sainz and Daniel Ricciardo. All four only had time for one run at the start of Q3 before the elimination clock - knocking cars out at 90s intervals after an initial six-minute period - prevented them from improving.
Sergio Perez and Nico Hulkenberg were both knocked out in Q2 and start from ninth and tenth respectively with freedom to choose tyre compounds on which to start the race. The top eight must all start on supersoft tyres.
A number of teams appeared to make errors during the first phase of eliminations, with Red Bull, Haas and Sauber all guilty of not giving their drivers enough time to complete laps.
After the two Manors were knocked out, Esteban Gutierrez was improving his best time but was eliminated while he was in the final sector. Despite it being a fruitless exercise, Gutierrez then completed his lap rather than returning to the pits. Similarly, Romain Grosjean started a timed lap without having anywhere near enough time to finish it and was also eliminated.
Daniil Kvyat was already in the pits for Red Bull and had not been sent back out to rejoin, meaning he did not have enough time to complete an out lap and flying lap before being eliminated. The Russian was walking to be weighed long before he was officially knocked out.
Sauber also seemed to fall foul of the new format as it sent Felipe Nasr out on track but then the Brazilian had to pit as he did not have sufficient time to complete a timed lap.
While cars are eliminated immediately during the session, the final elimination takes place when a driver takes the chequered flag and not when the session clock hits zero. As a result, Jolyon Palmer made it through right at the end of Q1 to knock out Marcus Ericsson. The two Renault drivers did not improve in Q2 though and were first to be eliminated, with the two McLarens and Valtteri Bottas following.
As it happened: Qualifying for the Australian Grand Prix
F1i's Australian Grand Prix preview
2016 F1 season: Team-by-team preview
| Pos | Driver | Team | Q1 | Q2 | Q3 |
| --- | --- | --- | --- | --- | --- |
| 01 | Lewis Hamilton | Mercedes | 1:25.351 | 1:24.605 | 1:23.837 |
| 02 | Nico Rosberg | Mercedes | 1:26.934 | 1:24.796 | 1:24.197 |
| 03 | Sebastian Vettel | Ferrari | 1:26.945 | 1:25.257 | 1:24.675 |
| 04 | Kimi Raikkonen | Ferrari | 1:26.579 | 1:25.615 | 1:25.033 |
| 05 | Max Verstappen | Toro Rosso | 1:26.934 | 1:25.615 | 1:25.434 |
| 06 | Felipe Massa | Williams | 1:25.918 | 1:25.644 | 1:25.458 |
| 07 | Carlos Sainz | Toro Rosso | 1:27.057 | 1:25.384 | 1:25.582 |
| 08 | Daniel Ricciardo | Red Bull | 1:26.945 | 1:25.599 | 1:25.589 |
| 09 | Sergio Perez | Force India | 1:26.607 | 1:25.753 | |
| 10 | Nico Hulkenberg | Force India | 1:26.550 | 1:25.865 | |
| 11 | Valtteri Bottas | Williams | 1:27.135 | 1:25.961 | |
| 12 | Fernando Alonso | McLaren | 1:26.537 | 1:26.125 | |
| 13 | Jenson Button | McLaren | 1:26.740 | 1:26.304 | |
| 14 | Jolyon Palmer | Renault | 1:27.241 | 1:27.601 | |
| 15 | Kevin Magnussen | Renault | 1:27.297 | 1:27.742 | |
| 16 | Marcus Ericsson | Sauber | 1:27.435 | | |
| 17 | Felipe Nasr | Sauber | 1:27.958 | | |
| 18 | Daniil Kvyat | Red Bull | 1:28.006 | | |
| 19 | Romain Grosjean | Haas | 1:28.322 | | |
| 20 | Esteban Gutierrez | Haas | 1:29.606 | | |
| 21 | Rio Haryanto | Manor | 1:29.627 | | |
| 22 | Pascal Wehrlein | Manor | 1:29.642 | | |