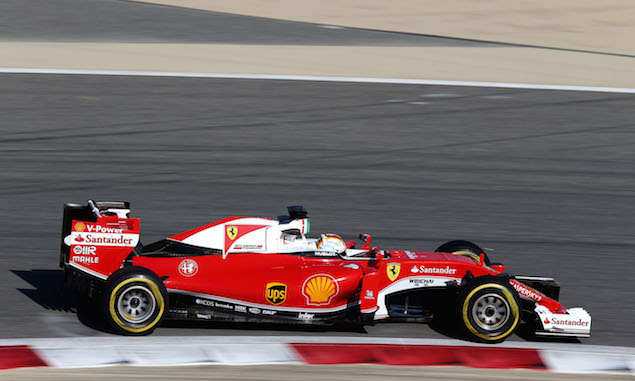 Sebastian Vettel has called on Ferrari to be "smart" with its strategy in today's Bahrain Grand Prix as it looks to challenge Mercedes.
Ferrari focused on its race pace during Friday's practice sessions as Mercedes enjoyed a comfortable advantage in terms of headline lap times, but posed a threat during qualifying before eventually falling half a second short.
Following a strategic error during the Australian Grand Prix which cost Vettel a good chance of victory, the German believes there will be more opportunities for Ferrari to do something different in order to challenge Mercedes from the second row of the grid.
"I think probably here, more so that Melbourne, you have a couple of options with the strategy – but it largely depends how the race goes," Vettel said. "How you start off, where you are after the first corner, the first lap. And then it has to be seen.
"I think it should be fairly clear which tyre is the preferred one to use and then, I think we all go from there but, as we've seen last year, I think Kimi [Raikkonen] was on a mirrored strategy compared to Nico [Rosberg] and Lewis [Hamilton], myself, and it worked out at the end – so there's always room for doing something different, so let's see what happens.
"If we can be smart then I hope we will."
Raikkonen finished second in Bahrain in 2015 having closed the gap to the leading Mercedes pair in the final stint of the race.
Both Mercedes and Ferrari drivers have the same tyre allocations left available to them for today's race, with each driver having one new set of medium tyres, two new sets of softs and three sets of used supersofts.
REPORT: Hamilton pips Rosberg to Bahrain pole by 0.077s
AS IT HAPPENED: Bahrain Grand Prix qualifying
Keep up to date with all the F1 news via Facebook and Twitter