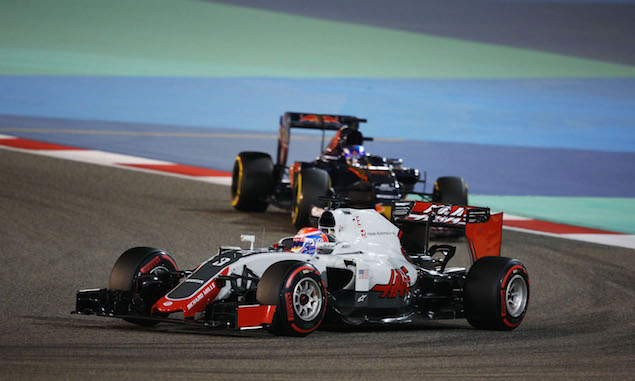 Romain Grosjean has won his second consecutive Driver of the Day award following the Bahrain Grand Prix.
The Haas driver finished in fifth place having started in ninth on Sunday, making the most of a three-stop strategy to run the first three stints on new supersoft tyres. His performance also included a number of clean overtaking moves as he climbed through the field after each stop to eventually only finish behind Nico Rosberg, Kimi Raikkonen, Lewis Hamilton and Daniel Ricciardo.
The result earned Grosjean the Driver of the Day award for the second race in a row having also been voted as the best driver by fans for his sixth place in the Australian Grand Prix.
Grosjean praised Haas for the "perfect strategy" after the race and admits the start to the season has exceeded expectations for everyone at the team.
"We have to keep our feet on earth and realise that there are going to be days where things are harder," Grosjean said. "It's a dream debut - you almost have to wake up to realise what it is - but we have to use it as a morale boost.
"Everyone was quite tired [before the race] because of the amount of work that we have to do behind the scenes, trying to catch up, is high, but those kind of races are huge reward for us."
DRIVER RATINGS: Bahrain Grand Prix
RACE REPORT: Rosberg beats Raikkonen to win in Bahrain
Keep up to date with all the F1 news via Facebook and Twitter