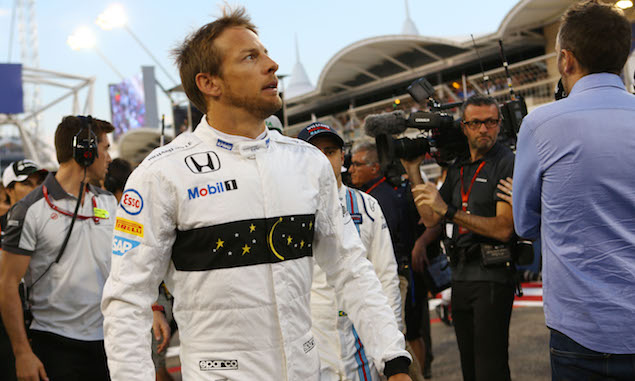 Jenson Button says McLaren needs to show its true pace soon after an encouraging Bahrain Grand Prix weekend ended in retirement.
The first race of the season in Australia saw Button lose out following the red flag period and finish at the back of the midfield pack, while team-mate Fernando Alonso crashed heavily. In Bahrain, the signs throughout the weekend were that McLaren would be able to fight in the top ten but Button was forced to retire on lap seven with a power unit problem.
Having been third fastest in FP2, Button says the true pace of the MP4-31 is good but has been masked so far this season.
"I think we take away positives from the weekend in terms of our outright pace," Button said. "To be fighting as far up as we were in the practice sessions this weekend, we've done a good job. Qualifying didn't go to plan, we didn't get a lap in Q2, but the pace is there. It is good progress but at some point we need to show it!"
And Button believes he was set to score a significant number of points in Bahrain with the way the start of the race had panned out.
"It was madness. I actually got a really good start but Stoffel [Vandoorne] wasn't sure which way to go around the car in front of him, so I had to brake on the main straight which is never so good. But made up loads of places and I ended up passing three cars under braking at Turn 10, I was pretty chuffed with that.
"Saved a lot of fuel, tyres were in mint condition and was hoping for a good race. It's the best position we've been in for a while in terms of outright pace, we just couldn't show it."
DRIVER RATINGS: Bahrain Grand Prix
RACE REPORT: Rosberg beats Raikkonen to win in Bahrain
Keep up to date with all the F1 news via Facebook and Twitter