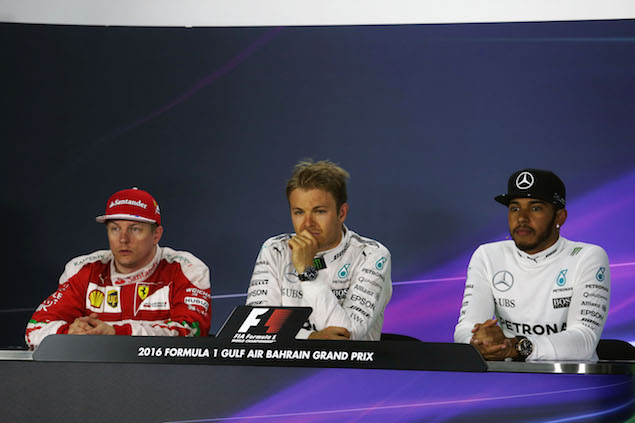 Bahrain Grand Prix winner Nico Rosberg believes Ferrari's true pace has yet to be seen after the Mercedes driver sealed his second victory of the season last Sunday.
The Scuderia's hopes of challenging the reigning Constructors' champions in Sakhir were dashed when Sebastian Vettel had to retire with an engine failure on the formation lap while Kimi Raikkonen's race was scuppered by his poor start.
Mercedes did not really show its hand either in the desert since Rosberg, who jumped into the lead at the first corner, admits he and his team could afford to go for a conservative strategy thereafter. Nonetheless, the German is sure Ferrari will recover swiftly to give he and team-mate Lewis Hamilton a hard time this year.
"I was in control, we were managing the race, strategy-wise, pit stop-wise, taking our time, just bringing the race home," Rosberg said. "At the same time, of course, Kimi showed good pace in the race and we know that Ferrari is super close. We saw that in qualifying.
"So we need to keep pushing because they haven't shown what they are capable of yet, that's clear because they've had so many mishaps which have cost them dearly. So we haven't seen the real Ferrari yet. We need to be careful because they are coming at us strong."
Rosberg now leads the Drivers championship on a perfect score of 50 points – that's 32 more than Raikkonen and 35 ahead of Vettel. In the Constructors' standings, Mercedes already has a 50-point lead over Ferrari (83 to 33).
Bahrain Grand Prix - Quotes of the weekend
DRIVER RATINGS: Bahrain Grand Prix
Keep up to date with all the F1 news via Facebook and Twitter