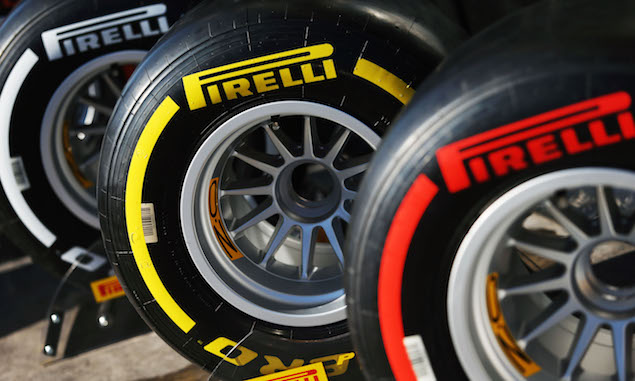 Pirelli has announced the tyre choices made by each team for the upcoming Chinese Grand Prix, with a small difference in compound allocations between Mercedes title rivals Lewis Hamilton and Nico Rosberg.
As part of new regulations, teams can now pick from three different tyre compounds, with an allocation of 13 sets per driver.
Of those 13 sets, Pirelli will select two sets that have to be allocated for the race (of which a driver must use one set), while a set of the softest available compound may only be used in Q3. Teams are then free to choose the remaining ten sets.
The medium, soft and supersoft tyre has been nominated for the Chinese Grand Prix, with Pirelli nominating one set of the medium and one set of the soft as mandatory to be available during the race, and one set of the supersoft compound for Q3.
Pirelli has now revealed the full choices for each driver. Mercedes team-mates Lewis Hamilton and Nico Rosberg are one of five pairings to opt for different choices within teams, with Hamilton opting for an extra set of mediums compared to Rosberg but also to Ferrari's Sebastian Vettel and Kimi Raikkonen.
Williams's Felipe Massa and Valtteri Bottas also opt for slightly different allocations with only one set of mediums available to the Brazilian against two for the Finn.
Toro Rosso drivers Max Verstappen and Carlos Sainz also differ between their medium and soft allocations, while Renault's Jolyon Palmer and Kevin Magnussen have different soft and supersoft choices.
Following his strong start to the season, Haas' Romain Grosjean will only get one set of mediums in China compared to two for his team-mate Esteban Gutierrez. Both have seven sets of supersofts available to them. Grosjean recently lauded his team's strategy after the Frenchman did three stints on the red-marked rubber en route to a fifth-place finish at last Sunday's Bahrain Grand Prix.
The new tyre regulations were based on the premises that qualifying will feature three different sessions – Q1, Q2, and Q3 –, which might no longer be the case in Shanghai following Thursday's vote on the format for the rest of the season.
The full list of tyre choices for the Chinese Grand Prix is below:
Bahrain Grand Prix - Quotes of the weekend
DRIVER RATINGS: Bahrain Grand Prix
Keep up to date with all the F1 news via Facebook and Twitter