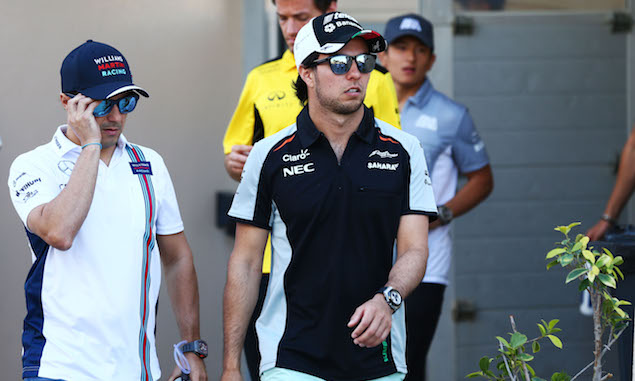 Sergio Perez says the drivers are collectively "ready to do whatever it takes" to ensure they are heard in F1.
Amid the recent debacle regarding the qualifying format and with doubts over the 2017 regulations, the drivers wrote an open letter expressing their concern that the current governance structure in F1 is "obsolete". In Bahrain the drivers made it clear they were all supporting the letter despite it being signed by the Grand Prix Drivers Association [GPDA].
Having come together to voice their concerns, when asked what the drivers see as the next step, Perez told F1i: "Whatever it takes.
"I think we are in a position where we are definitely ready to do whatever it takes to be in a position that they hear us. If we want to do any changes, in the past or whatever happens in the future I think the drivers united can be very strong in the sport, so it's not a bad thing."
However, Perez is also keen to stress there are plenty of positives in F1 at the moment, feeling the racing has actually been good despite the off-track politics.
"Yeah I've been enjoying the racing in Formula 1. Obviously I would like to have a better car, you know, I'm sure that if you ask any other driver then nobody has been enjoying it more than [Sebastian] Vettel and [Lewis] Hamilton over the last few years because they are the ones winning and they are the ones who have the car and the opportunity to win. But other than that it's a normal situation."
Sergio Perez exclusive interview: Time to be a driving force
TECHNICAL ANALYSIS - Bahrain Grand Prix
Scene at the Bahrain Grand Prix
Keep up to date with all the F1 news via Facebook and Twitter