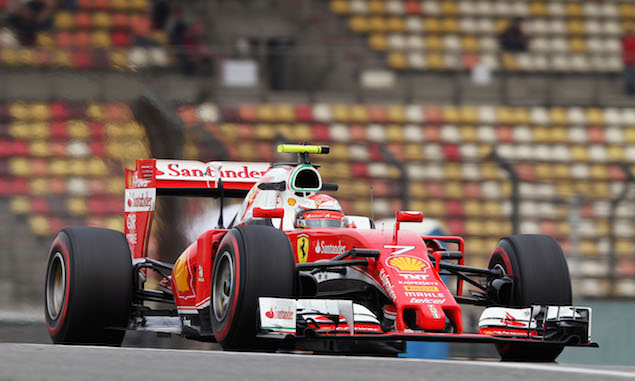 Kimi Raikkonen believes his errors in the final part of qualifying cost him a chance of pole position at the Chinese Grand Prix.
The Finn had been quickest in FP2 on the supersoft tyre and was on provisional pole after the first flying laps in Q3 with a dry track. However, Nico Rosberg pulled out an improvement of over half a second and Daniel Ricciardo then snatched second place as Raikkonen ran wide at the penultimate corner.
Raikkonen admits he made mistakes on each of his laps in the final part of qualifying which he believes cost him a chance of his first pole position since the French Grand Prix in 2008.
"Yeah, I mean even on the previous run, on the same corner I went pretty deep - too deep - and in the last run I was quite a bit up on that lap and just ran wide at the hairpin and lost a lot of time," Raikkonen said. "It's a shame, I think we had a chance to be on top today but that's how it goes and we try and make the best out of it tomorrow."
While Raikkonen will start directly behind Rosberg, the Mercedes driver made it through from Q2 on the soft tyre which means he will start the race on that compound. However, Raikkonen is not overly concerned by the different strategy.
"I'm not going to start guessing anything, but obviously I'm quite disappointed with what happened in qualifying. P3 is not a bad place to start from, it's the better side of the track, but you still have to make a normal, good start and go from there. Then let's see how it pans out.
"I'm sure the circuit won't be in the ideal conditions after the rain, and take it from there. Hopefully tomorrow it will be closer to what it was yesterday. We'll try to make the fastest race and see what it brings, if we can fight with the guys that are in front of us or not – let's see."
REPORT: Rosberg beats Ricciardo to pole as Hamilton falls in Q1
AS IT HAPPENED: Chinese Grand Prix - Qualifying
Romain Grosjean column: A start beyond my craziest dream