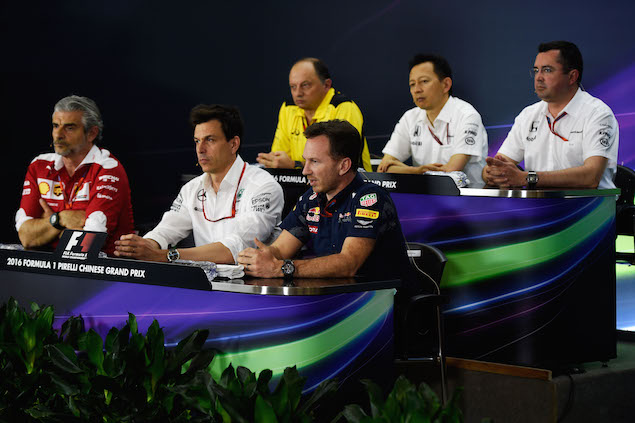 Mercedes motorsport boss Toto Wolff thinks Formula One is wrong to pursue radical changes for the 2017 season after the first three events of the current campaign delivered thrilling races.
In the wake of dwindling TV viewing figures, complaints about the latest turbo engines and growing fan frustration, the FIA had asked for an aggressive blueprint and new regulations to be implemented in order to spice up the show.
The sport's governing body then released a series of major bodywork changes, which will see the introduction of wider cars and tyres delivering lap times that could be up to five seconds per lap faster than at present.
However, the changes have so far received tepid support with drivers concerned that a 30% increase in downforce levels will only make it harder for them to follow and overtake other cars.
"We should just leave [the rulebook] alone," Wolff is quoted as saying by Motorsport.com.
"And maybe speaking against ourselves because clearly we don't have the advantage we had last year, but the racing is great and will become even greater if we leave the regulations alone."
Also listed amongst the grievances about F1 is Mercedes' implacable dominance over the past two seasons. However, Wolff claims this era is bound to end as stable regulations since 2014 have enabled rivals to play catch up.
"Even if it is uncomfortable for the commercial rights holder that we have been running away with lots of races and the two championships, the longer you keep regulations stable the more the performance is going to converge between everybody. And this is exactly what is happening now.
"The engines are converging. The teams are converging. The gains we are making are smaller as the curve flattens out, and the others are making bigger steps. So I think we are having an ideal situation with great racing."
"We've had three great races in a row now. But are we capable of reacting quick enough and acknowledging that, and reverting to regulations that seem to be okay now. I don't know?"
F1 chiefs have until April 30 to finalise next year's technical and sporting regulations.
Chinese Grand Prix - Quotes of the week
F1i's Driver rating - Shanghai
Eric Silbermann has breakfast with photographer Crispin Thruston
Keep up to date with all the F1 news via Facebook and Twitter