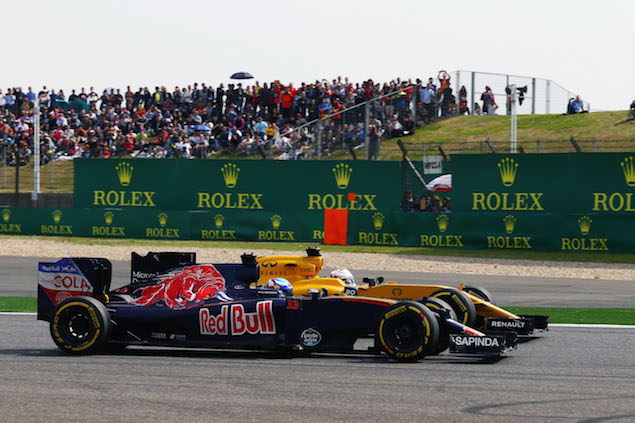 Max Verstappen says he is targeting "another good result" in this weekend's Russian Grand Prix, after the Toro Rosso ace secured three points finishes in as many events this year.
The Dutchman currently occupies ninth position in the Drivers' standings, having claimed 10th in Australia, sixth in Bahrain, and eighth in Shanghai a fortnight earlier. His first visit to Sochi last October resulted in a competitive P9 in qualifying followed by a top 10 appearance in the race.
The 18-year-old is now keen to build on Toro Rosso's promising start in 2016.
"After a strong race in China, I hope for another good result in Sochi," Verstappen said. "The first thing I remember from Russia is my good qualifying [last year]. It's always good to start the race from the highest spot possible and starting P9 in Russia meant already being in the points positions.
"Even though we unfortunately didn't have a good start in the race: I arrived to Turn 1 and [Nico] Hulkenberg spun in front of me, we collided in Turn 2 and I had a puncture. It wasn't great, as I had damage on the car and it all got very tricky but I still tried to do my best."
While team-mate Carlos Sainz bemoans Sochi's "wide" run-off areas, Verstappen insists the former Winter Olympic Games venue presents drivers with a genuine challenge.
"The track itself has many 90 degree corners, so it's difficult to find the right line. Turns 13 to 16 are a complicated section of the track, as they are all slow-speed corners and if you get the positioning right you can gain a lot of lap-time there.
"My favourite part of the track is Turn 3 because it's flat out and goes past all the Olympic flags, which you can see when you arrive to Turn 2."
This weekend's Russian Grand Prix will also see ex-Manor F1 boss John Booth take up his new position as director of racing at Toro Rosso.
FEATURE: Silbermann says... One 'Flu and he's cuckoo at best
F1 technical - How does ERS deployment work?
Derek Warwick - Race of my life
Keep up to date with all the F1 news via Facebook and Twitter