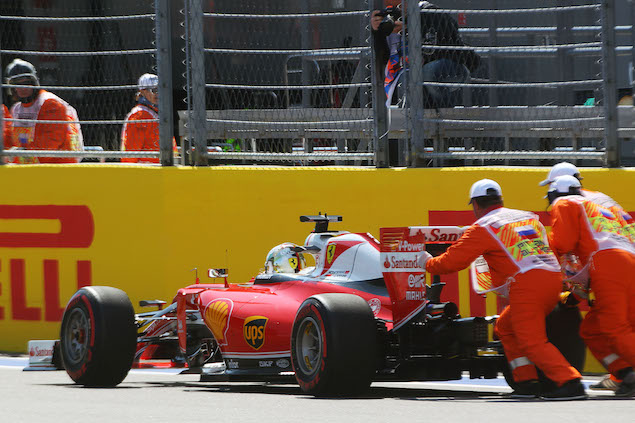 Sebastian Vettel admits his curtailed FP2 affects preparations for the Russian Grand Prix, but looks to make up for lost ground thanks to Ferrari team-mate Kimi Raikkonen's Friday "homework" in Sochi.
The German had just clocked a new fastest lap on his first supersoft run when his SF16-H ground to a halt on the main straight. Despite his mechanics' efforts to fix his car, Vettel had to sit out the final hour of action on the opening day of practice.
"Well it looks like we had an electronic problem," the four-time world champion said.
"We don't know yet entirely but we have to see. I'm sure we can fix it but first of all we have to understand what happened."
"It's a bit of a shame because we are lacking a couple of laps - especially in the long run and race trim - to see how competitive we are. But I think Kimi did homework for the team so not too bad. I think also here we know roughly what to expect so I think we can still learn a lot from what other people did."
"I think in qualifying trim we still have some stuff to improve. I think the car was getting better, the track was quite dirty this morning and seemed to come more and more our way so I felt happier as the day continued.
"Obviously we did some stuff for qualifying, the race we are lacking a bit of information but it shouldn't be too bad. Let's see tomorrow morning, we still have another practice session."
Engine reliability has been Ferrari's prime concern so far in 2016, with Vettel and Raikkonen already suffering one race-ending failure each this year. In an effort to get its season back on track, the Scuderia spent three tokens on a new power unit specification ahead of this weekend's race.
Asked about how the upgrade felt, Vettel, who is already on to his third engine out of the allocated five, replied: "Difficult to say. The feeling was alright, the balance wasn't yet where I want it to be but I think we can improve.
"Naturally I think the circuit should come our way. It was quite slippery this morning, I spun on the first two laps but I didn't spin this afternoon so that's already a massive improvement! I think we go from there. Obviously we are lacking a bit of information now on my side for the long run but I think other people did the homework and we can hopefully copy a bit."
Raikkonen's Friday was not entirely smooth either, as the Finn experienced a faulty DRS in the early stages of FP1. The 2007 world champion was able to recover in the afternoon with 35 laps on the board, against only 10 for Vettel.
REPORT: Hamilton quickest as Vettel hits trouble in FP2
AS IT HAPPENED: Russian Grand Prix - FP2
Silbermann says ... 'Russia OK' shock
Romain Grosjean column: Haas brought back down to earth
Keep up to date with all the F1 news via Facebook and Twitter